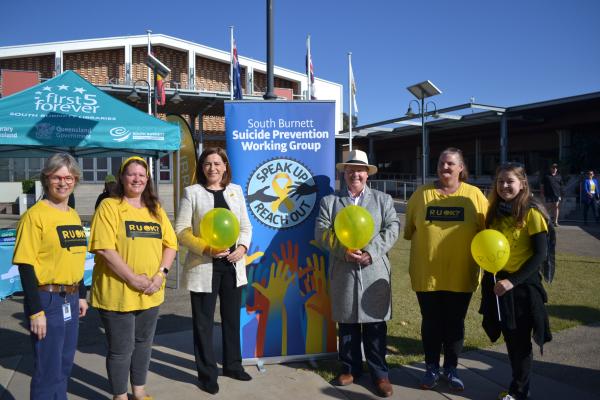 By Neesha Sinnya
For many of us, taking the time to slow down and check-in with our loved ones' mental health can be difficult – but it's more important than ever to ask the important questions.
RUOK Day is a reminder for Australians to focus on mental wellbeing and break the stigma around asking for help when we are struggling.
Kingaroy residents joined the South Burnett Suicide Prevention Group on Thursday, 9 September, at the Town Hall forecourt for a morning of conversation, resources, and breakfast.
A spokesperson for the suicide prevention group and South Burnett Regional councillor, Danita Potter, said the morning event was about starting a conversation.
"The idea is for us to remember to ask that question but it's also a gentle reminder that we must ask the question to people in our lives every day," she said.
"We need to trust our gut and ask people if they are really ok, what we can help them with and what we can do for them."
This year's theme for the annual day dedicated toward mental health is 'are you really ok'.
R U OK has shared some helpful tips to keep the conversation going once you've asked the question.
If you feel like something's not quite the same with someone you know – there's something going on in their life or you notice a change in what they're doing or saying – trust that gut instinct and take the time to ask them "Are you OK?"
By acting as 'eyes and ears' and reaching out to anyone who's going through a tough time we can show them they're supported and encourage them to access help sooner.
We can all make a difference in the lives of those who might be struggling by having regular, meaningful conversations about life's ups and downs.
If this story has raised any issues for you or someone you love please contact:
– Lifeline Australia on 13 11 14
– Beyond Blue on 1300 22 4636
– Kids Helpline on 1800 55 1800
– MensLine Australia 1300 78 99 78