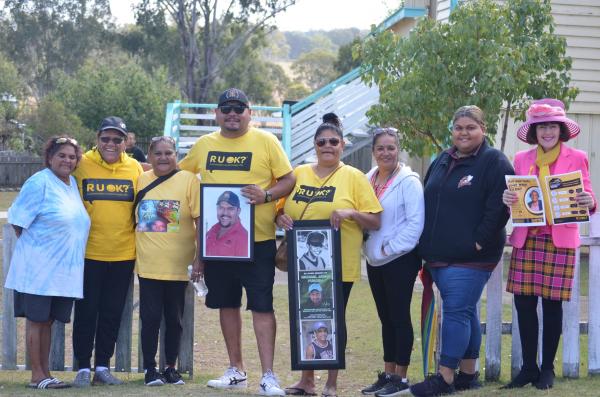 By Neesha Sinnya
Groups of people lined the streets of Cherbourg dressed in yellow and holding photos of loved ones lost to suicide, for R U OK Day last Thursday, 9 September.
A Cherbourg council representative said death by suicide is becoming a serious issue with young men in the Indigenous community most at risk.
"The biggest problem we have is that we are losing generations," they said.
"Our Cherbourg family is crying out for help from the service providers. They need to listen to the community and what they need and not tell them what they need," the representative said.
Earlier in the week, a family fun day organised by CRAICCHS and St Vincent de Paul provided an opportunity for the community to gather and discuss the devastatingly high death by suicide rates.
Cherbourg mayor, Elvie Sandow said she has been left with 'no choice' but to approach Government ministers following what she described as an unproductive meeting with service providers to address the high suicide rates last month.
She was pleased with the support from St Vincent De Paul for the family fun day and is looking forward to further working with the organisation.
"St Vinnies want to work with us and work together to build a relationship with the community. They are bringing stuff and giving it away to the community and they will help with our Christmas Carnival too," Mayor Sandow said.
Wakka Wakka Elder, Uncle Bevan Costello, hoped the event could raise some awareness following another death by suicide in the community last week.
"It's become a case of monkey see, monkey do," he said.
"Fifty per cent of our enrolment at the Silver Linings School have committed suicide. It's not known and I try and tell as many people as I can, any politicians or ministers I talk to them about it.
"For our young people there is no hope, a lot of our young people fall into things like drugs and alcohol, and on top of that domestic violence and fetal alcohol syndrome mean they are beyond the eight ball from the start," Uncle Bevan said.
If this story has raised any issues for you or someone you love please contact Lifeline Australia on 13 11 14 or Beyond Blue on 1300 22 4636.