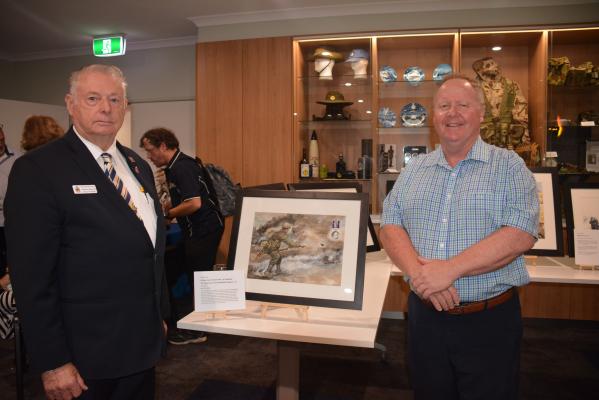 By Neesha Sinnya
A small citation and a name were all Bundaberg artist Ross Driver was provided with when asked to paint Murgon veteran, Private Harold Latham.
The stunning watercolour painting that came as a result is just one of the portraits that are part of Mr Driver's veteran collection, which is now being shown at the Murgon RSL Welfare Drop-In Centre until 12 November.
The highly acclaimed exhibition 'Road to Victory' was commissioned by the Bundaberg Regional Council and saw the artist delve into the history books to create a moving tribute to veterans.
"It was about capturing the looks on the men's faces as they were in the midst of war," Mr Driver said.
"Some people even walk out of the exhibition because they are emotional."
So far, Mr Driver has travelled to Childers, Bundaberg, Mount Perry and Gayndah as part of his tour.
Before showing in Murgon, the artist contacted the RSL to see if there was a veteran they wanted him to paint.
They nominated Private Harold Latham, who was awarded a Military Medal for his service in the 15th Battalion; his citation noted the veteran's 'conspicuous courage and coolness in action'.
"He showed an utter contempt for danger and, when a party of enemy riflemen opened fire from a shell hole, he rushed the post and, by means of a Mills bomb, killed or wounded the occupants," the citation read.
Mr Driver used this description to bring to life Private Latham's time spent defending Australia in Belgium during World War I.
Diving into the archives to create the 35 piece exhibition saw Mr Driver confronted with the cruel realities of war.
"After the exhibition at Childers, I got very depressed. For two years I was delving into misery, sadness and death," Mr Driver said.
"You just hope you've done the right thing and that there are good responses from the families [of the veterans painted]."
South Burnett Mayor Brett Otto officially opened the exhibition.
"This is the first function since the opening of this tremendous facility," Mayor Otto said.
"It is important we avoid any chance to forget the sacrifice made by the men and women for all their war efforts in Australia."
RSL Wide Bay and Burnett District President OAM Trevor Williamson was proud to see the exhibition shown at the Murgon centre.
"It's essential our younger generation knows the sacrifice our veterans made. This exhibition is a testament to the grief, struggle and hardship the men and women faced," he said.
"I hope our schools around the area take advantage of the opening over the next coming weeks."
The exhibition will be open for viewing until Friday, 12 November.