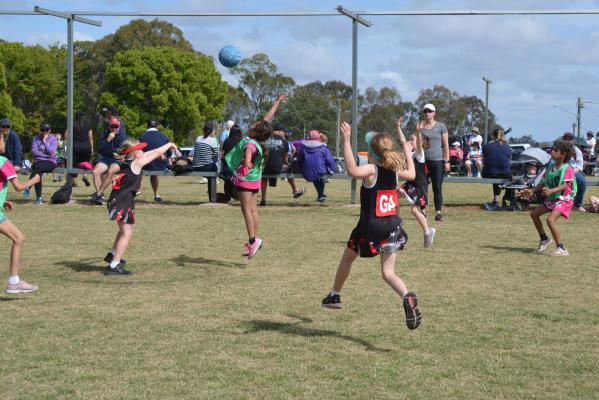 by Jessica McGrath
Kingaroy's netball courts were a bustle of activity on Father's Day last Sunday.
Kingaroy netball president Hailey McAnally said there were 30 teams from Kingaroy, Cherbourg, Bundaberg, Dalby and Chinchilla.
A special shooting competition was held for the dads in honour of father's day.
"All of the dads here on Father's Day, showing their support at the carnival is really good," McAnally said.
They had under-8s teams playing just for fun, while the under-10s, 12s and 14s played competitively.
With different teams in this carnival to the recent Central Burnett carnival, the Kingaroy players were challenged with new opponents.
McAnally said the club had been overwhelmed by the number of raffle donations given to them from the community.
The canteen and raffle tickets on the carnival day helps to keep the fees low. The nomination fee for the carnival was just $20 to make it more accessible to more players.
"This carnival everyone could play, they just had to nominate," she said.
"It's a lot of effort and the [Kingaroy] girls were fortunate they had the other carnival as a warm-up, as this one is a fair bit bigger."
Last Sunday's carnival was also an opportunity for the older players to step up and gain more experience as an umpire.
"It's an opportunity to get better skills and its a way to give back," McAnally said.
The club is looking forward to running a nine-week mixed netball competition in Term 4 for under 11s to 14s.
"It's great to give the boys an opportunity to play in the off-season to footy and soccer," McAnally said.
Kingaroy netball's under-10s and 12s will play in a competition in Dalby this weekend.