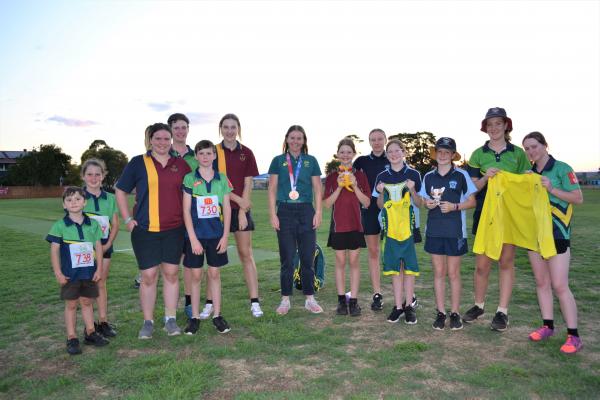 By Neesha Sinnya
Countless hours spent mastering the perfect throw or fastest sprint time is nothing without a strong mindset.
This was just one of the lessons taught by Olympic rower Ria Thompson as she toured Burnett schools last week.
Aspiring Olympians from South Burnett Little Athletics listened in awe last Wednesday, 27 October, as Thompson shared her journey from amateur to world-class.
The rower grew up in regional Victoria, where her love for sport started at just three years old when she started her journey with Little Athletics.
"I thought it was so fun running along as fast as my little legs could take me," Thompson said.
When given the opportunity to try rowing in high school, her first attempts didn't indicate an Olympic medal on the horizon.
"I went along to 'learn to row' and fell out of my boat five times," she said.
It was years of early starts, determination, and hard work that got Thompson over the line where she found herself winning bronze at the 2021 Tokyo Olympics.
"We were one of the bottom-ranked women's crews at the Olympics this year so to come away with a medal was so special.
"We proved people wrong and proved that we could go out there and do our best," she said.
The moment the Australian women's rowing team crossed the line in Tokyo is one Ria will never forget.
"We rowed as hard as we could to the finish line; we thought there is no way we have won an Olympic medal – and then the screen said [that] Australia [was] in third [place]," she said.
Thompson offered some final wise words of wisdom to the Little Athletics crew to conclude her talk.
"You are going to face challenges in everything you do, but everyone faces challenges and if everything was easy everyone would be good at it.
"Being the best you can be is the only thing you can do – winning isn't always about coming in first place," she said.
The Olympic rower also toured other areas in the Burnett to share her story, including Cherbourg, Proston, and Mundubbera as part of the 'Olympics Unleashed' program.
The tour takes Olympians and world-class athletes into Australian schools to inspire and motivate students to be their personal best.