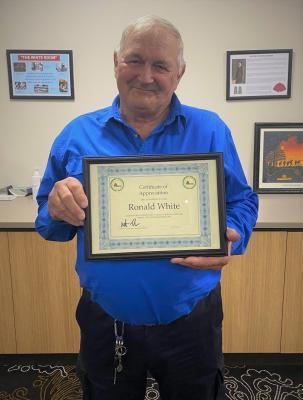 Sue Green - South Nanango RFB
There's an empty locker at South Nanango Rural Fire Brigade.
It's very likely it will be difficult to fill, there aren't too many volunteer roles in the community that mean you're on call 24 hours a day, seven days a week and when you do go out you don't really know when you'll be back.
A fire family is a family like no other and the South Nanango family has had a steady guide in the form of Ron White for 15 years.
Not many have the same dedication and knowledge that Ron holds for the Queensland Rural Fire Service.
He will be leaving some big boots to fill, if you have ever wanted to serve your community the rural fire service is an amazing opportunity to learn and grow as a person and as Ron always famously tells us – "it's all part of it".
The brigade will miss him terribly but we wish him all the happiness in the world and for all his new adventures to go to plan.
– Sue Green, South Nanango Rural Fire Brigade