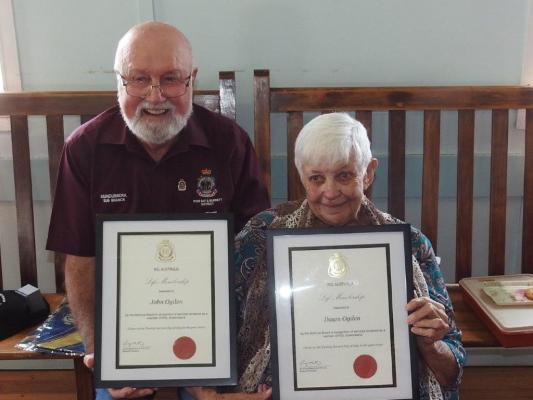 By Kate Mccormack
When it comes to devoted community members, they don't get more dedicated than John and Dawn Ogden.
The beloved couple have recently been honoured by becoming life-members of RSL Australia after serving the Mundubbera Sub Branch for over 18 years.
Both former radio operators in the Royal Australian Navy, John, now 80, and Dawn, 79, met at a hotel in Canberra in 1961 and have been enjoying giving back to their community ever since.
"I joined the Navy in Wondai in November 1957 when I was just 17 and served for six years as a special radio operator on the HMAS Swan in the Whitsundays, HMAS Harman and HMAS Parramatta before meeting Dawn," the sub-branch's secretary, John said.
"This was back in the days when women were not allowed to serve on ships and could only operate radios from land."
After settling in Mundubbera later in life, John and Dawn joined the RSL sub-branch in 2002 and have devoted a great portion of their lives to keeping the service group going through drought and even flood.
"We'd just about helped rebuild the sub-branch building from the group up before the floods hit us in 2013, which meant we had to have the floors done all over again," Dawn, the sub-branch treasurer, said.
"We've also been involved with the project to install a new plaque on the Mundubbera cenotaph up the road, I'm particularly proud of that achievement."
After 18 years with the sub-branch, John said one of his fondest memories is passing on some of his knowledge to the next generation.
"I used to teach Morse code to the Mundubbera Girl Guides before that disbanded, it was an honour to be able to share some of my previous life with them."
Both Dawn and John said they'd absolutely love to see some young bloody join the sub-branch.
"It would be wonderful to have some younger ex-service men and women get involved, we're not going to be around forever after all," he said.
Sub-branch president David Roach said it was a very rare occurrence to award two people with life-membership at the same time.
"I'm sure everyone who know John and Dawn will be quite pleased to know that their many years of tireless and selfless volunteer contributions to the township, not just for our sub-branch, have been duly rewarded.
"We're extremely fortunate to have two such dedicated members within our community.
"Our heartiest congratulation John and Dawn, it's a wonderful achievement for them both."