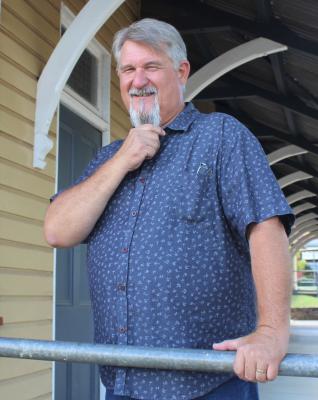 Laura Blackmore
Cancer Council Australia recommend men start having prostrate check ups once every two years after they turn 50.
However, for more than seven years Darren McNeil put off getting a test done for a number of reasons.
Thankfully, when he finally bit the bullet and had his first examination his results came back as cancer free but he knows for many Aussie men, this is unfortunately not always the case.
Now the South Burnett taxi driver is striving to create more awareness for men's health through a new campaign.
Darren has signed up for Movember with his own twist – he will be shaving off his goatee he has had for more than two decades.
"I'm doing it a bit differently than the clean shaven blokes," he said.
"This Saturday I am going to Evolution Hair in Nanango and they are shaving off my goatee.
"I will then grow a moustache throughout the month on November.
"When I was 16-years-old I started growing a moustache and had it for 20 years, then I met my wife Karen and then I started growing a goatee.
"People who know me around town have never seen me clean shaven, so it will be interesting to see their reactions."
On a more serious note, Darren said he was proud of himself for finally finding the motivation to take part in this worthy cause.
"Normally I have my wife on my back about things but last year I took myself to the prostrate check up. I don't even think I told her until I got it done.
"It's a little bit invasive but it needs to be done.
"The whole idea behind signing up for Movember was for me to be able to talk about men's health, physically and mentally.
"Men my age don't follow up on things that may not be quite right with their bodies. It's the whole 'She'll be right' attitude and we like to keep things to ourselves.
"Women like to talk about their health issues but men don't as much.
"There's also the mental health side of it. I've been struck by it, not myself but people I know in my circle of family and friends.
"I've seen how hard it can be first-hand in the South Burnett and we need to do more to support men."
To donate to Darren's campaign, head to au.movember.com/donate and enter 'Darren McNeil' in the search bar.