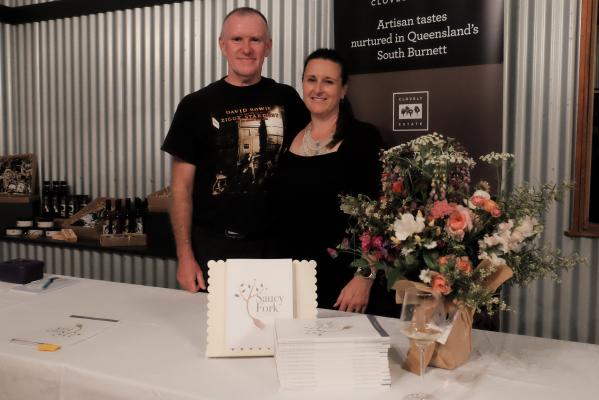 by Jessica McGrath
A chef's latest creation is encouraging foodies to embrace the rich flavours of the Burnett.
Chef Roberta Schablon's first cook book, 'The Saucy Fork, Reconnecting the Fork & the Farm' celebrates the idea of 'locavore' -a person who makes an effort to eat food that is grown, raised, or produced locally.
"The book breaks the recipes down by producers, I tried not to limit it to categories like traditional ones such as lunch and dinner," she said.
Mrs Schablon said the cook book, officially launched during November, highlighted the collaboration between Burnett producers.
"There's so many businesses that compliment each other in the region," she said.
"The focal point was the producers, the food and the wine."
She approached the region's different wineries and asked them which wines they would pair with some of her recipes for a complete dining experience.
'The Saucy Fork' had been an idea brewing in the background for Mrs Schablon over the past two years, but she got the push she needed when plans were disrupted during the Covid-19 pandemic.
Angela Reeves from Creative Buzz Graphic Design had sent through the fork tree logo for Mrs Schablon's other project, Farm 2 Fork Collective South Burnett -a group dedicated to connect farmers, producers and consumers and to educate the local community about seasonal foods.
The new fork tree logo reminded her of her cook book dream and hence, the late night recipe writing and collating started.
The recipes grasp Mrs Schablon's childhood cooking northern Italian dishes with her Nonna, her passion for locavore and love for regional flavours.
The Chef was fortunate to have a team who eagerly helped her vision become a book.
"The book came through, it was fun and nice to do," she said.
South Burnett photographer Nancy Jayde was very keen to help it become a reality, taking photos of the food creations and the producers.
Writer Kathy Cope visited the producers to find out their story and their passions, while Selina Carey helped with the website design.
The morning book launch at Taste of TIngoora and the evening event at Clovely Estate Vineyard Cellar Door was a reality check for the chef on Saturday, 14 November.
"It's only just hit me that I've written a book,"
"I'm amazed by how it's all come together."
"I'm over the moon about the launches, some of them who went were the producers that are in the book,"
Cooking mentor and friend Jason Ford shared at the evening event how much Mrs Schablon had grown as a chef, who encouraged her to finally become fully qualified as a chef in 2018.
Mrs Schablon's daughter Evie and husband Craig also showed their support at the cook book launch.
A paperback copy of the book or eBook copy of 'The Saucy Fork' is available for purchase via www.thesaucyfork.com.au