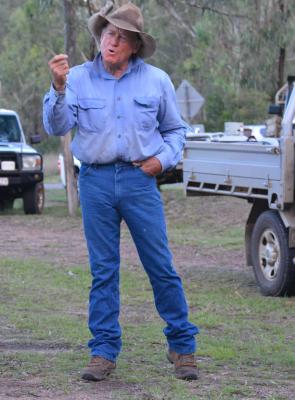 By Amy Buckingham
A Hivesville farmer's almost wholly organic farm could be risked if a potential rail trail goes ahead.
At a community meeting at Hivesville Memorial Park last night a couple of community members said there were possible solutions to mitigate the detriments primary producers may experience.
However, Hivesville farmer Terry Griffiths said he was just under a year and a half away from having an organic farm, and the potential of chemicals or weeds threatening his hormone-free beef could jeopardise its sale price increasing.
"This would give us no hope of going organic," he said.
"We can't keep spraying chemicals on cattle because we won't get much money for them.
"I'd lose my [European Union Cattle] Accreditation which means you are recognised for producing cattle without hormones.
"I don't want a person galloping through my place dropping rat's tail and parthenium."
After Mr Griffiths received murmurs of support from other farmers, Alan Trim suggested a rail trail could be managed.
"We could get an underway for cattle," Mr Trim said.
Also considering solutions to the farmers' problems was councillor Kirstie Schumacher. She said gates or fences could help alleviate these issues.
On board with these workarounds was cyclist Ricky Collard from Murgon, who said he encouraged the idea of a rail trail because alternate routes such as back roads were dangerous.
"I ride 160 kilometres a week and riding on the road is too dangerous and mountain biking is boring," Mr Collard said.
"When my mum died, I was in a bad place, so I pumped my tyres up and that helped me feel better.
"I live by myself, so I like talking to people who are also riding and seeing the countryside."
Another win the rail trail is estimated to achieve is an influx of cash to businesses in these two communities.
The 2019 Murgon-Proston Rail Trail Feasibility Study reported local, day-trip, and overnight visitors would spend a total of over $750,000 a year when utilising the rail trail.
However, one of the handful of Hivesville businesses are against the idea.
Hivesville Hotel owner Nicole Hancock said she does not think it is worth the disadvantage to landholders.
"People would just queue for toilets and block them up," Ms Hancock said.
Another farmer up in arms about the proposal was Ray Wise who said he had recently bought a property in the area.
"If there were a rail trail, we wouldn't know who had been there, what animals had been through, and what weeds were there," Mr Wise said.
"I am having second thoughts about buying this property because I didn't know this was a possibility."
In fact, several farmers said they were not consulted about the proposal, despite the feasibility study stating that several meetings and formal submissions were available.
Farmer Terry Griffiths said this lack of communication made him doubt council.
"Nobody was approached which is very upsetting for me regardless of whatever buck is thrown this way and that way," Mr Griffiths said.
"I made it very clear the other day I have no faith in council."
In response, councillor Kathy Duff said she was disappointed the study, conducted by a third party, did not make a bigger effort to speak to community members.
"I felt let down by the report," Cr Duff said.
"We were not to get involved as councillors because we weren't to influence the community.
"I had already been talking to farmers from Hivesville and they didn't raise any concerns."
The trail consultant of the feasibility study was Mike Halliburton Associates, and principle recreational trail planner Mike Halliburton responded to these comments with "the job is finished, and I complied with the contract."
As community members calmed down towards the end of the meeting, Mayor Brett Otto said council was not trying to drum up support for a rail trail, but rather trying to brainstorm ideas that could boost Hivesville and Proston's economies.
"The last thing we want is to put anybody's livelihoods at risk, so if you are a cattle farmer and your property is on the line and you have concerns about biosecurity, we are all here to listen and take them on board," Cr Otto said.
"Council doesn't want to support anything that doesn't have broad community support and it won't get funding if there aren't people backing it."
Attendees brainstormed alternative projects to increase foot traffic in Hivesville which included a fun park, wash bay and rodeo.
These ideas will be discussed at Hivesville Progress Association's general meeting held at Hivesville Hotel at 6pm this Thursday.
A second community meeting regarding the Hivesville to Proston rail trail will be held with the mayor at Proston Blake Street Park at 6.30pm on Wednesday, 13 January.