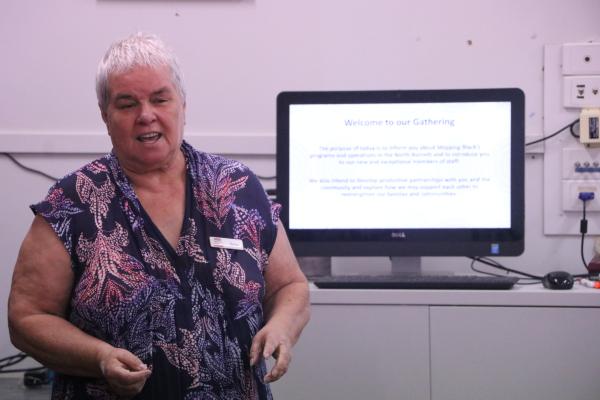 by Julian Lehnert
A Bundaberg-based Indigenous community organisation has announced its new team as well as plans to provide regular meetings and support groups for residents of the North Burnett following a stakeholder meeting in Mundubbera last week.
The Stepping Black Indigenous Corporation, which has established a presence in Eidsvold via after-school care and playgroup programs, will now begin to expand its award-winning initiatives to the towns of Gayndah and Mundubbera.
The decision was announced by key members of the organisation at a morning tea event at Mundubbera's North Burnett Community Service centre last Thursday, which was attended by a number of Council staff, health workers, police, school staff and key community members.
Stepping Black's secretary Zona Hussey-Smith, who co-led the meeting, explained that the first step in her group's push into a wider area of the North Burnett will be to consult with the community.
"We want to develop some productive partnerships with the community, see how we can support each other and strengthen one another," she said.
Stepping Black's self-professed commitment to culture, community and connections in the region will manifest in increased support for Aboriginal and Torres Strait Islander people through community groups and initiatives like the Strong Aboriginal Families and Elders (SAFE) program.
"Our main objective is to empower individuals and communities to reach their potential in all areas," Mrs Hussey-Smith said.
To this effect, the group has employed the services of a new generation of social workers, who will personally lead and direct the planned community groups in the region.
Latrell Combo-Graham (16), Kat Simmonds (17) and Narrygn Clevens (19) will join the Stepping Black team as trainee community participation officers in 2021 and will aim to connect with the North Burnett's youth.
Senior Project Officer Christie Wishart said that, following the creation of safe common spaces in each of the three towns, the group can begin to tackle widespread issues like transport, mental health and addiction.
Stepping Black will also hold art projects and community days in the region, such as the upcoming Harmony Day event in Mundubbera on March 19, where community members from all backgrounds are invited to bring food from their respective culture.
"It's part of our push toward reconciliation – getting each one of us to learn something about our culture, something about Australia," Ms Wishart said.
Mrs Hussey-Smith hopes that her group's new generation-spanning approach will reignite interest in First Nations communities around the North Burnett and help those in need to "feel safe and talk about things."
"We're very much looking forward to this year," she said.