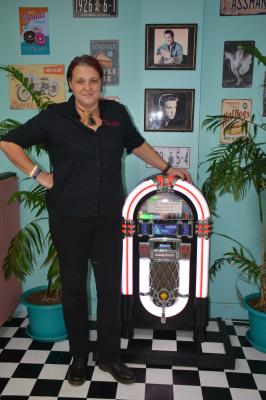 By Amy Buckingham
A familiar diner has had a revamp after its new owner noticed a gap in Kingaroy's hospitality scene.
Tomo's Diner, formerly known as Mel's Diner, had its official opening on Tuesday, 6 April at 2/30 Alford Street, Kingaroy.
With 22 years of experience in hospitality, new owner Linda Thomson said she wanted to create a fun atmosphere where patrons could not only listen to music, but sing and dance to it too.
"We want to have karaoke nights, live bands, and line dancing," she said.
In September Ms Thomson hopes to get a liquor licence for the diner and rename it Tomo's Bar and Grill.
"I don't know anywhere here where you can go somewhere quiet, enjoy a beer, and bring your kids even on a Sunday," she said.
"We have Netflix and toys so they are entertained."
Some standouts from the menu include steak, eggs and chips, pork chops and salad, and chicken fettucine.
There will be some small changes to dishes with new chip and burger recipes, and a wider selection of drinks.
Kingaroy man Alan Nielsen was the first customer through the door, and he said he wanted to support Ms Thomson and see what changes had been made to the diner.
"I love breakfast foods so I came in especially for that," he said.
"It is still an inviting place with the black and white tiles which stand out."
Born in New Zealand, Ms Thomson has been in Australia for 10 years and Nanango for four.
"I like living here because it is a quiet place with little people around," she said.
"My grandparents were old-school cooks so I always wanted to be able to make food that tasted as good as theirs."
Tomo's Diner is open seven days a week from 6am to 9pm.