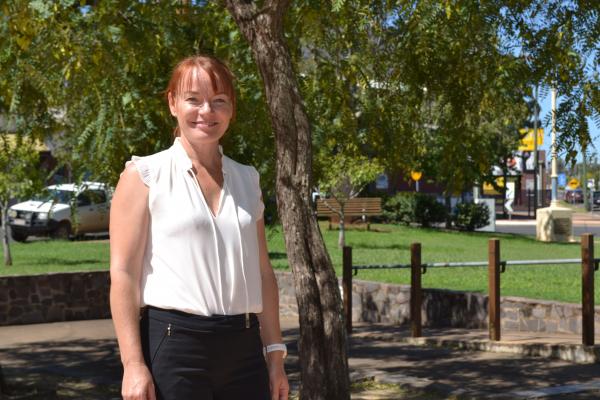 by Jessica McGrath
"How do you save a mind?"
Tamsyn Rosenberg did not hesitate to answer the question fellow Rotary 9600 Conference speaker Rick Morton had posed in his memoir book 'One Hundred Years of Dirt'.
"Teach your mind to save itself -that's what I would say," Ms Rosenberg said.
"That's what protective factors are -they are all of the little steps your mind does naturally."
Teaching South Burnett youth these 'protective factors' is what this founding CEO of youth mental wellbeing organisations, ALIVE and Get Real, has set out to do.
The statistics
Ms Rosenberg made this her mission when the Burnett received some scary statistics.
"We've had our attention on the South Burnett region for the last three years -because of your suicide rates in young people being the highest in Australia," she said.
"We've been making sure we're trying to work with the community through interventions and programs in this area specific to the challenges you are experiencing here."
Ms Rosenberg was a guest speaker at the Rotary conference on 27 March in Kingaroy, which raised funds for the South Burnett Suicide Prevention program and the ALIVE Youth Suicide prevention program.
"It's really important I think we all need to be making a stand with the very nature of things," she said.
"Suicide in young Australians is the number one cause of death -it's three times higher than anything else and yet it gets the least amount of attention and focus."
"A decade of moving slowly, is going to be a massive problem for us to lose thousands of young people that are supposed to be the next generation."
Ms Rosenberg said a 17-year-old boy was three times more likely to die by suicide than a car accident.
Considering this, the suicide rate for an aboriginal young man is three times higher than a non-indigenous young man.
"That's not to mention the young women," Ms Rosenberg said.
"Since covid-19, teenage girls have spiralled well above… but we don't have data for that yet.
"The girls are catching up sadly, a lot of that disconnect and isolation isn't so great for the female processing style -we're very important to each other."
A plan in place
The ALIVE team have already been working in the South Burnett region, establishing 'scalable solutions' in the community.
A three-year-program is half-way through teaching both students and adults working with youth different skills.
The programs look at how to recognise signs of mental ill health in youth, how to respond to and have a safe conversation with a young person and how to link them to support services.
By the end of the program the team hopes to upskill people in various organisations from parents, youth workers, church leaders, sports instructors and coaches and those working in schools.
"Making sure that we are that bridge that links that support," she said.
"The plan is to do that in partnership with every resource available -Headspace, Lifeline, Beyond Blue, and schools, it's a very collaborative and fun approach."
So far the group have established programs in every rugby league club around the region.
"We have conducted a mental health literacy program and resilience training program with them through the covid period where we were all in lockdown," Ms Rosenberg said.
This year, the program's focus is on the four high schools in the South Burnett.
"We are very focussed on solutions in place that upskill teachers and everyone else in the schools, including a janitor," she said.
The programs for students make mental wellbeing fun with activity-based sessions including Brazillion Jiu Jitsu, mixed martial arts and art adventures.
"We make it fun, the kids really love when our coaches come, we bring footy stars in -we have some great ambassadors for our program," Ms Rosenberg said.
This second stage is exciting as the team are seeing some peer mentoring happening from the students that attend both the rugby league and school sessions.
"They start to learn the skills and become examples and leaders in their clubs," she said.
"After that we aim to get into every sport program, reaching out to every young person we can that's engaged in sports or school," Ms Rosenberg said.
Due to the high demographic of indigenous people in the South Burnett community, the ALIVE team had a steep learning curve.
They have worked with the indigenous elders on their board to establish an 'indigenous-specific' program.
Once they have the program signed off they hope to gain better engagement with the indigenous participants -taking the learning outside the classroom in yarning circles and artistic storytelling.
"Their families might feel better knowing that we're not walking in talking about suicide, we're working with them around building protective factors with their wellbeing, there's the use of traditional games and indigenous martial arts," the founder CEO said.
Ms Rosenberg, a mother of three, said there were many ways to build up a teenager's protective factors.
"Honestly teenagers are so fun to work with, they are so beautiful, they are just real, they are exactly as they say they are," she said.
Hobbies, involvement in community sports and interests are massive protective factors against suicide.
Building protective factors within a support network of family members, care-givers and teachers is also vital.
If you or someone you know needs to talk to someone contact:
Beyond Blue on 1300 22 4636
Lifeline on 13 11 14
Headspace at headspace.org.au