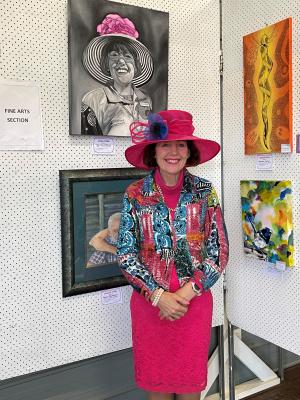 by Jessica McGrath
While she was exploring the Kingaroy Show, South Burnett councillor Kathy Duff was told she must check out the fine arts pavilion.
The councillor was surprised to find a 'look alike' hanging on the walls, marked first prize.
The black and white portrait of Cr Duff by Ann Maree Harrison had an appropriate pop of pink on the hat.
"It's very artistic the way its done," Cr Duff said.
The open 'Human Portrait of any medium' entry for the fine arts section captured the muse's attention.
"It's pretty awesome, amazing," she said.
"I feel really flattered that someone did a portrait of me and it won.
"The pink and the hat is really a dead give away that it is me."
Ms Harrison's other artwork in the 'Any animal, bird, creature, any medium' class won the Open Grand Champion prize in the fine arts section.
Fine Arts steward Margie Williams said they were very happy with the number of entries, despite the selection being slightly down compared to the last show in 2019.
There was a total of 156 entries across the six years and under age group, junior, juvenile, amateur and open divisions.
"Everybody seems pleased with the display," Ms Williams said.
"The kids stuff is always exciting to see -it encourages all of the little ones -who are the future of the arts display.
"My personal delight is watching the kids find their artworks on the wall."