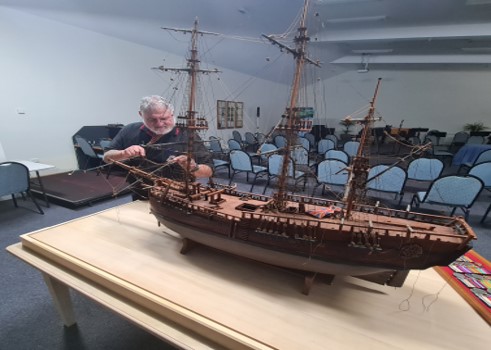 by Jessica McGrath
The team at a Maryborough Museum are keen to dive deep into the history of a mysterious model ship, which called Kingaroy home for a while.
The ship has 'incredible' detail, sparking the interest of the Maryborough Military and Colonial Museum.
Member Chris Nelson said they were keen to discover a family who may know the history of the antique mystery ship. They believe someone in Noosa may know more about the ship's past.
At the start of 2021, the Maryborough museum collected a very old antique model of the HMB Endeavor.
It is thought to have been built in 1890 or more likely 1888 for the centenary of discovery.
"The rigging on this model is amazing and accurate down to the smallest detail and only someone who had 'served before the mast' would have known how to rig it like it is," Mr Nelson said.
"We had a wooden boat builder look at this and was amazed at the detail of the mast's and rigging and confirmed that it is actually an older antique."
The ship was first located in a Noosa shop that had been purchased by a lady to start a hairdressing salon. It had been left in that Noosa shop on consignment by someone, likely a Noosa resident.
The lady that bought the shop retired in 2000 and returned home to Taabinga in the South Burnett, taking the model ship with her.
She then donated the ship to the Kingaroy museum who has since gifted it to the Maryborough museum.
If you know anything about this model ship's history contact Mr Nelson at the Maryborough Museum on 0407 966 037.