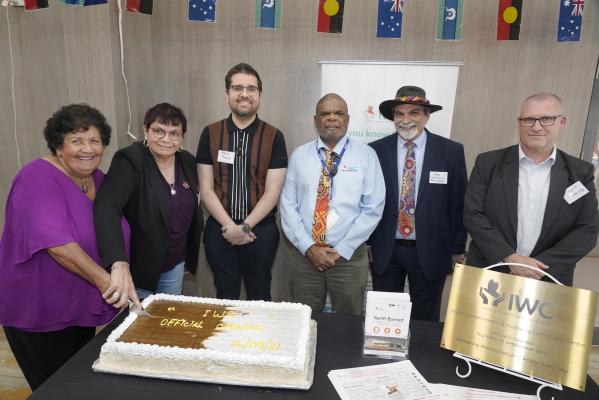 by Julian Lehnert
The North Burnett region is now in possession of a state-of-the-art exercise and recreation facility, with the Indigenous Wellbeing Centre's Gayndah location celebrating its grand opening ceremony on 16 September.
The $3 million project, which has transformed Gayndah's former YMCA building into a combination sports stadium and gym, was opened to public viewing and great acclaim last week with performances by a North Burnett Indigenous dance group and musician.
"The IWC North Burnett construction project has been five years in the making, and is setting the bar high around community services," IWC CEO Wayne Mulvany, who attended the opening ceremony alongside Director Peter Malouf and team member Clem Shadford, said.
Mr Mulvany said the construction process involved a near-complete overhaul of the Fielding Street location due to pre-existing structural- and water damage in the building.
He said that works included the installation of gutters and stormwater disposal piping, roof and sheeting repairs, as well as major electrical work, the addition of protective window barriers, engineering checks of fixed features and removal of non-compliant equipment.
"We have repaired walls, including replacing one whole external wall and providing connection to the adjoining gymnasium area, put in new internal wall bracing and linings, and installed new roller doors," Mr Mulvany said.
"This is on top of creating an additional entry and dedicated toilets, showers and change facilities which are disability-friendly."
Following speeches by IWC staff and a traditional Indigenous dance performance by Eidsvold State School students as well as a didgeridoo performance by Dale Brown, attendees were able to, for the first time ever, set foot into the new facility.
However, construction work is not entirely complete yet; IWC's CEO explained that works on the stadium will continue for several more weeks, after which the facility's rehabilitation gymnasium will be accessible.
Mr Mulvany said affordable memberships and visit passes will be available to everyone in the community – Indigenous or not.
"The centre is being well received, and we look forward to building services for people right across the North Burnett," he said.
"Our warm thanks to everyone who helped make the official opening a great event. It represented everything IWC is – inclusive, culturally responsive and focused on a positive future for all in our communities."