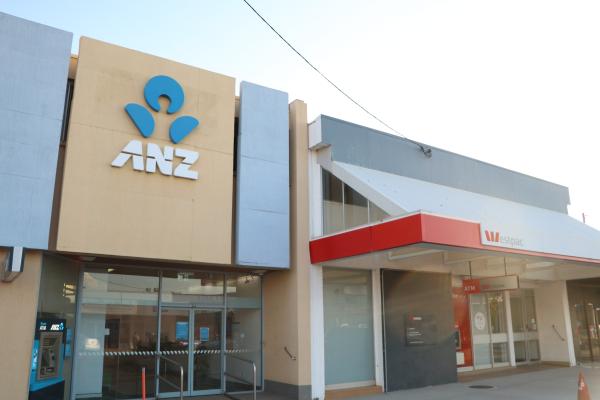 by Julian Lehnert
Kingaroy customers of the Australian banking giant ANZ will soon have to make the transition to online-only services or face a two-hour commute to Toowoomba to visit a brick-and-mortar location, after a spokesperson for the bank announced that the Kingaroy branch is set to close early next year.
ANZ District Manager Steven Straub explained that the bank's Kingaroy location will close less than six months from now, on 23 March 2022, citing a growing lack of need for physical, in-person banking among Australians.
"In recent years we have seen a significant shift to online and digital options for a wide range of things, including grocery shopping, watching sport and banking, which is convenient and secure," Mr Straub said.
"Across ANZ last year 70 per cent of our customers preferred digital banking options and our few remaining passbook-only customers have been choosing to use debit cards for the first time.
"This follows a longer term trend that saw in-branch transactions drop on average about 50 per cent over the past four years. Customers are not using branches like they used to," he added.
The closure of Kingaroy's ANZ branch comes just months after the local Bank of Queensland branch shut its doors to customers – a development that has drawn ire from South Burnett residents and even the region's politicians.
Member for Nanango, Deb Frecklington, spoke out against the practice of closing down rural and remote banking branches on 6 October, calling the news "disappointing."
"The South Burnett continues to be hit with bank closures and this time it's ANZ Kingaroy who will abandon their regional customers, (…) leaving behind thousands of business, community group and individual customers," Mrs Frecklington said.
"This will be the third ANZ branch to leave my Nanango Electorate, with Kilcoy and Toogoolawah also closed over recent years.
"I am hugely disappointed with the ANZ Bank and their decision to strip services from the South Burnett," Mrs Frecklington said.
"Unfortunately, this is now the common theme for the big banks, who believe they can service their customers just as well online.
"However, it will also be necessary for community groups, businesses and many individual customers to have access to face-to-face banking services. And we all know that many people in regional areas have poor internet connection, or no computer access at all, so internet banking isn't always the answer," she said.
ANZ's Steven Straub agreed on this point, saying that the transition to online-only service may prove difficult at first for some.
"Many of our customers have clearly changed their banking habits, however we understand the transition will be more challenging for some customers, particularly in certain rural or remote locations," he said.
"Whenever we decide to close any of our branches, we notify customers personally and let them know about all the alternatives they have available, including specialist teams on the ground in their region that can help them.
"We are personally writing to our Kingaroy customers to let them know we have provided a closure period of about six months to allow time for us to work with them on alternative banking methods, including online banking, mobile lenders and mobile banking. They can also visit our Toowoomba branch," he explained.
Staff at the Kingaroy branch will be supported by their employer as the location prepares for its closure, with the company reportedly offering relocations and other forms of compensation.
"We announced the closure to staff this week and we are making every effort to find redeployment opportunities within ANZ, particularly with increased demands on other areas of the bank that could benefit from their skills and experience," Mr Straub said.
"To help them succeed in their new roles, we will provide our employees access to the right tools, training and networks.
"For all employees who leave, we will provide access to unlimited career coaching and outplacement support as well as access to our career training fund, which we have doubled," he said.
"Where people face financial hardship after leaving ANZ, we will provide access to our Past Employee Care Fund to support them."