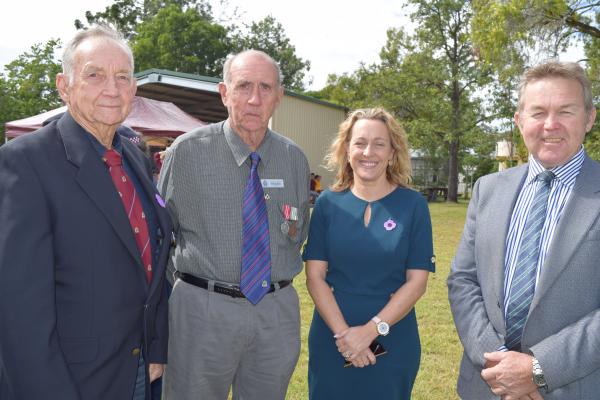 by Julian Lehnert
Biggenden's Returned and Services League branch is currently facing a life-changing decision, with its members voting on incorporating its operations under another branch due to low attendance numbers.
Members of Biggenden's RSL met on 28 October for a Special General Meeting, with the branch's secretary and treasurer, Alex McNaughton, calling the resulting turnout 'most disappointing'.
"Of our membership of eleven, only four attended on the day," he said.
"There were apologies from one service member and one non service member.
"Total attendance at the meeting was nine: four Sub Branch members, three Women's Auxiliary
members and two visitors; Trevor Williamson, District President Wide Bay and Burnett District and a previous Sub Branch member," Mr McNaughton added.
One of the talking points at the Meeting was one that will decide the fate of the group for the years to come.
"There was a wide-ranging discussion on whether the Sub Branch should continue as a Sub Branch or become a Chapter of a neighbouring Sub Branch or Wide Bay and Burnett District," Mr McNaughton said.
"The District President explained the pros and cons of both options. He made it quite clear that
whichever option was chosen, the Sub Branch would have the full support of the District Board.
"Given the low attendance on the day, it was resolved that the Secretary/Treasurer write to all Sub Branch members inviting them to vote on their preferred option by completing a questionnaire and returning it to the Secretary/Treasurer in the reply paid envelope by the due date," he added.
The decision has since been put to a vote, with the particulars laid out in a letter to the branch's members, which was obtained by Burnett Today.
"For the Sub Branch to remain in its present format, it was recognized that membership would have to increase and some members would have to take on leadership positions within the Sub Branch," Mr McNaughton wrote.
"The President and Secretary/Treasurer indicated that they both would be standing down after many years in their present positions."
"Following the meeting, Trevor Williamson, President Wide Bay and Burnett District, indicated that the District would be willing to take on the role of host should the Sub Branch vote to become a Chapter.
"It is important that a decision on our future direction be made before the end of this year," he added.
Members of Biggenden's RSL are asked to return their completed questionnaire by Friday 26 November, with failure to return a completed questionnaire by the due date to be interpreted as a vote in favour of the proposal.
"The future of the Sub Branch is in your hands," the group's treasurer and secretary wrote.