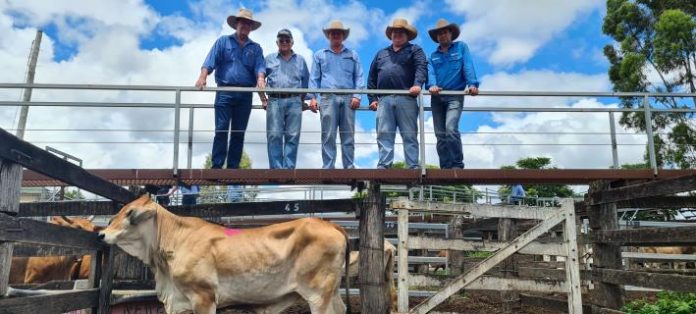 The South Burnett Livestock Exchange selling community has rallied behind a Murgon cattle producer, who after surviving life-threatening injuries during an on-farm accident, vowed to support the service he credits for saving his life.
On 13 September RACQ LifeFlight Rescue, a critical aeromedical retrieval service, provided treatment and an emergency flight to the Princess Alexandra Hospital in Brisbane following an incident on his home property, situated just outside of Murgon.
Last week, at Tuesday 23 November's SBLX Fat and Store Sale, the experienced cattleman, John Muller, gave back and donated the proceeds of the sale of one heifer in a charity auction which raised $3576 for the much-needed service.
Working on his own during the day of the accident, Mr Muller, 75, had climbed up the side of the crush to ear tag stock from above when he lost his footing and fell to the bottom of the raceway and became trapped.
Using remarkable survival skills, and in an effort, Mr Muller describes as extremely "difficult", he dug at the dirt under the gate to create enough room for him to crawl to safety, while repeatedly being kicked and stomped on by the six head of weaners which were on top of him. After freeing himself, he opened the gate on the cattle in the crush so they were safe, then drove himself to find help.
Ambulance officers treated Mr Muller during his trip to the Murgon Hospital, and it wasn't until he was safely loaded on the LifeFlight helicopter and examined by a doctor he learnt the extent of his trauma, which included two collapsed lungs, broken ribs, and a gash to his head.
"I don't think I would be here today if it wasn't for LifeFlight," Mr Muller said.
"When I was in the helicopter the doctor explained my injuries, that I had collapsed lungs and they needed to drain them. I was treated so well and the doctor made me feel safe and secure.
"Later, when I was recovering in hospital, I told my wife I wanted to give back to LifeFlight, and that I would donate a heifer for charity."
On sale day, the Brahman cross heifer donated by the Mullers received immense support and was initially knocked down to AAM Investment Group for 666c/kg or $1998/head.
AAM, which owns and operates SBLX, swiftly opted to donate the heifer back into the sale for a second auction, where the Evans Family, Jen-Daview Limousin Stud, purchased the heifer for 526.2c/kg or $1578/head.
Mr Muller was overwhelmed by the result, and said he was proud he could support the service he would always be immeasurably grateful for.
SBLX Site Manager, Andrew Wieland, said the selling facility was honoured to support Mr Muller, and LifeFlight.
"We hear the LifeFlight chopper fly overhead almost weekly here at the site, and John is a long-time vendor, so it was an easy decision to support the cause," Mr Wieland said.
Pratt Agencies Owner and selling agent, Paul Pratt, mirrored this admiration for LifeFlight and said it meant a great deal to him to be able to aid the organisation and Mr Muller.
"John came into our office only about a fortnight after his accident and we were all surprised to be seeing him that soon. While he was fairly black and blue, he had recovered very quickly, and we wanted to do all we could to support this initiative," Mr Pratt said.
Reflecting on the accident, Mr Muller credits his good health and fitness, maintained by his physical job and walking about 5km each day for exercise, to his fast recovery.
"This old fella healed up pretty quick in the end," he joked.
However, he believes his story is a cautionary tale and will think carefully about his personal safety when working with stock in the future.