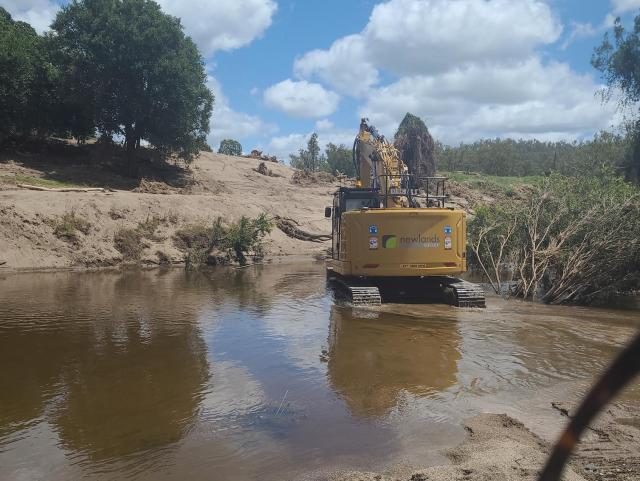 by Julian Lehnert
Even two weeks after floodwaters cut the town off from the region, Kilkivan residents continued to feel the fallout of the January 8 and 9 floods, being unable to place or receive calls or connect to the internet.
The flooding in early January caused major damage to the town's main access roads, rendering Kilkivan nearly unreachable for several days.
Residents of the small town in the Gympie region northeast of Goomeri reported sweeping outages to their phone network, with local man Martin Essenberg taking to Facebook to inform his friends, family and neighbours of his inability to place calls on the Telstra network.
The impassioned local sent mails and messages to local member Llew O'Brien and Telstra support.
"In the floods of 2011, 2012 and 2013 Kilkivan lost all contact with the outside world," Mr Essenberg wrote to O'Brien.
"We were cut off by road from Goomeri and Gympie by road. The phone system ceased functioning so we had no landlines, internet or mobile phones for several days.
"Here we are in 2022 and we are again flooded and nothing much has changed. People with Optus phones or Telstra NBN seem to be okay this time.
"However, people with landlines, mobile phones or internet are once again isolated," he added.
"Surely after nine years the telecommunications system shouldn't be so fragile.
"Surely in Kilkivan we shouldn't be just a fair weather town where a flood still wipes out all our connections to the outside world.
"Would you please communicate with the Minister responsible about our situation. This is Tuesday and many people have had no phones since early last Saturday," Mr Essenberg wrote.
Eventually, the town of Kilkivan received a notice that reception would be out for some time, with Telstra support pledging to install a temporary "mobile base station" while repairs progressed.
"The recent flooding has damaged our fibre optic cable in the area, which is disrupting landline and mobile services in and around Kilkivan," Telstra Regional General Manager May Boisen said.
"The flood waters have been preventing us from accessing the damaged cable, so we have brought in a temporary mobile base station to restore mobile coverage while we work to repair the damage.
"Extensive excavation is required and our technicians are on the ground working to get everything back online," Ms Boisen added.
Additional relief for Kilkivan residents came when the State Government, in conjunction with Lifeline, launched a support hub for affected locals in the town by the following weekend, beginning operations on Friday 14 January.
Telstra support reported the following day that repairs to its network had been completed after close to one week of Kilkivan being virtually cut off from the rest of the region.
"The fibre optic cable that was damaged during recent flooding was repaired on Saturday night, bringing landline and mobile services back online," Telstra Regional General Manager May Boisen said.
"The flood waters prevented us from accessing the damage for a number of days and the repair required extensive excavation. We brought in a temporary mobile base station to restore mobile coverage while we worked to repair the damage," she added.
"We know it was a long wait for our customers and we thank everyone for their patience."
The office of Llew O'Brien has pledged to support Wide Bay residents should similar outages occur going forward.
"[Residents] are welcome to call on 4121 2936 if it's possible, or email their service provider, affected phone number and RSP account numbers to Llew.Obrien.MP@aph.gov.au so that he can make enquiries with their RSP to request priority repairs," a spokesperson for Mr O'Brien said.