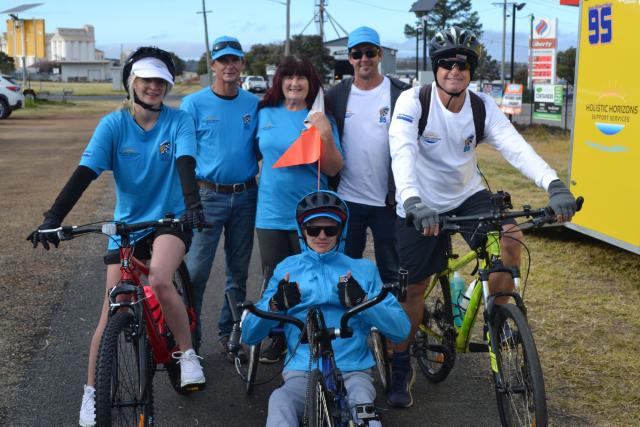 by Euan Morrisson
One South Burnett man is undertaking a huge journey to better the lives of those who come after him.
Nathan McDowell began his big ride from Kingaroy to Redcliffe today, Wednesday 29 June, riding to raise awareness for a rare disease he lives with, Pelizaeus-Merzbacher Disease.
This ride has been a long time coming for Nathan.
Nathan and his supporters originally planned on undertaking the ride two years ago, but due to circumstances outside of their control, their efforts had to be put on hold.
Since then, Nathan took on another big ride from Noosa to Redcliffe which lasted six days – a tough ride for the young man and his supporters.
Nathan's friend and director of Holistic Horizons, Drew Cason, said that it was a mammoth effort.
"It was a hard ride, he did amazingly well." Drew said.
Drew added that, after the first ride, the crew did not think of going for another one.
"There was one ride, it was big, and we put everything into it – but it did so much for [Nathan] that we talked about continuing it.
"We thought we'll do it because he wants to and it gives him purpose through the year," he added.
Since that last ride, Nathan has been training diligently for his next challenge – the ride he began today.
His training, he explained, not only allows him to do his big rides, but it has also increased his independence in his day-to-day life.
Like anyone, though, sometimes Nathan needs a bit of encouragement to push himself to his limits.
Nathan's dad, Gavin, is one of his biggest sources of encouragement, pushing him to stay focused and to keep going.
"As the saying goes, if you don't use it, you lose it," Gavin said.
"So, you've got to keep him going so he doesn't give up – you can't let him give up."
Before Nathan was the smiling, joking character he is today, he was in quite a dark place.
"I don't think anyone could comprehend what the word 'terminal' does to someone," Holistic Horizons' Drew Cason said.
"It overshadowed him so much that all he wanted to do when I first met him was go to graveyards."
Since then, Nathan's perspective has taken a complete 180-degree turn; he is often out and about, enjoying life to the fullest.
These big rides, he explained, are one of the ways that he focuses on living his life.
"This is what keeps the smile and the hope going," Nathan said.
Before embarking on his big ride, Nathan was spreading his smile and hope by visiting schools including Kingaroy State School and Redcliffe Special School.
Julie Latcham works for Holistic Horizons and was at the Redcliffe Special School representing the company at a forum.
She said they brought their first clients – Nathan and another man, Ethan – along to the forum and that they had a great response from the students.
"It can be quite daunting for a lot of them, leaving school," Julie said.
"A lot of them and their families don't know what they're going to do after school. What their lives are going to be like."
Nathan, Julie explained, showed and told the kids about his bike riding experiences, making their faces light up.
"They were all very excited."
Robin Tayler, Nathan's step-mum, said that his rides have gone further than just giving him something to look forward to.
"It's something that is changing Nathan's life and Nathan is now changing other people's lives," Robin said.
"Now he's making connections in school and he's actually talking about it to students.
"Some students that are in special schools or have special needs are really lost and Nathan talks to them, shows his pictures of his ride and they get inspiration," she added.
"It's making a change."