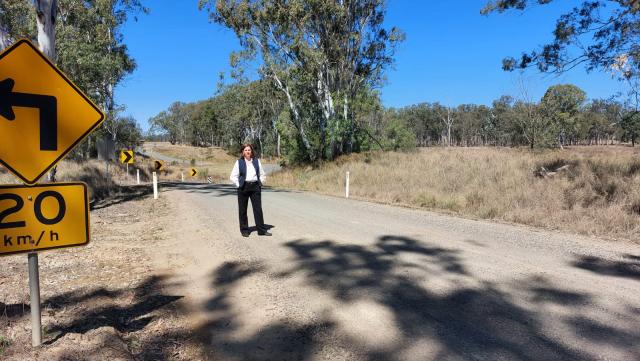 Euan Morrisson
The Queensland State Government released their budget for the 2022-2023 financial year in Queensland Parliament, Brisbane, on Tuesday, 21 June.
The Queensland Government generalised the budget as good jobs, better services, great lifestyle.
The budget proposes the largest health budget in Queensland's history, spending $23.6B on total health funding in 2022-2023.
$19.6B for education and training including TAFE services.
$262.5M towards protected area investment and management.
$199.5M towards priority regional water infrastructure projects.
Member for Nanango, Deb Frecklington said the state budget for 2022/2023 has not delivered for the people of the Nanango Electorate.
"It is disappointing to see no new announcements for water security, roads, health services and other important services," Mrs Frecklington said.
"Labor really needs to start looking at our region and the huge opportunities we have here, but it needs backing with better roads, better health services, water security and less red and green tape for our primary producers and small business."
Of the State government's $23.6B health budget, $1.6B is meant to be going towards mental health care over a period of 5 years, plus $28.5M to support the Better Care Together plan for mental health, alcohol and other drug services.
$333.7M over 10 years supporting the Royal Flying Doctors Service and $60.3 million for the Queensland Regional Aeromedical Hub.
The Infrastructure Association of Queensland (IAQ) welcomed the budget, noting the significant spending on health and transport infrastructure including a $59.126 billion infrastructure investment program over the 4 years to 2025–26.
IAQ CEO Priscilla Radice said delivering the level of infrastructure spend at the accelerated rate outlined is ambitious.
"It will require agencies to work together and engage proactively with the private sector…" Ms Radice said.
Transport is another main component of the budget with an allocation of $29.7B.
Rail is a particular focus in southeast Queensland given the 2032 Olympic Games and the need for increased mass transport.
"Overall, this is a strong budget for our industry that delivers on the Government's three overarching priorities – more jobs in more industries; better services; and protecting Queenslanders' lifestyle," Ms Radice said.
MP Deb Frecklington said that just 5.7 per cent of the Wide Bay Burnett region roads budget has been allocated to South Burnett roads and that this is unacceptable.
"It seems unbelievable that our region will be receiving just 5.7% of the total budget for the Wide Bay Burnett region, given the area covers 8,382 square kilometres," Mrs Frecklington said.
"The only road improvement I can find in the budget papers is a small co-contribution of $607,000 to help widen and seal the Blackbutt-Crows Nest Road, but this is not due to be undertaken until 2024/25."
Chamber of Commerce and Industry Queensland (CCIQ) CEO Heidi Cooper said the payroll tax relief announced as part of the budget means that Queensland's small-and-medium-sized businesses will be incentivised to employ more people.
Ms Cooper said the changes recognised the payroll tax constraint on business and came after CCIQ called for payroll tax reform ahead of the state budget.
"We welcome today's announcement as it means small-and-medium-sized businesses have been afforded some incentive to grow their workforce without facing higher tax bills, supporting them to better meet consumer or market demand, diversify, scale and grow," Ms Cooper said.
The newly elected member for Callide, Bryson Head, said that the State Government are breaking their promises of no new taxes and that the state budget has neglected the region once again.
"[The State Government is] taxing some of our biggest employers…" Mr Head said.
"There is no CT Scanner for Biloela, there is no return of maternity services in Chinchilla and there is no new money for major road upgrades that are well overdue."
"Callide has the highest road toll in Queensland [January-July 2021 deaths RACQ], and while the Transport Minister is hiking traffic fines, the state government continues to neglect a serious contributing factor to our toll, and that is the state of our roads. I'll continue to push for road upgrades in our region including the Mundubbera-Durong Road, and the Gayndah Mt Perry Road."
From 1 July a 10-year freeze on mine royalties will come to an end.
After this date tiered royalty levels will be introduced.
The current 15 per cent royalty rate will rise to:
20 per cent for prices above $175 per tonne
30 per cent for prices above $225 per tonne
40 per cent for prices above $300 per tonne
The Queensland treasurer Cameron Dick told Australian media that the higher percentage will only apply to the portion of the over the tiers.
"For example, if coal prices are $302 per tonne, a very high price by usual standards, the 40 per cent tier will only apply to the $2 portion," Mr Dick, the Treasurer said.
This comes after coal is being traded at over $500 per tonne.
The budget is set to put Queensland as the first state that went into a deficit to flip to operating at a surplus since Covid struck.
The surplus will be $1.9B but as factors change this is projected to reduce to a surplus of $1B deficit in 2022-23, and 2023-24 then returning to a $137M surplus in 2024-25 and $183M in 2025-2026.
These numbers are sure to change as the years get closer and more accurate estimations can be taken.
Neither North Burnett Regional Council nor South Burnett Regional Council has commented on the state budget.