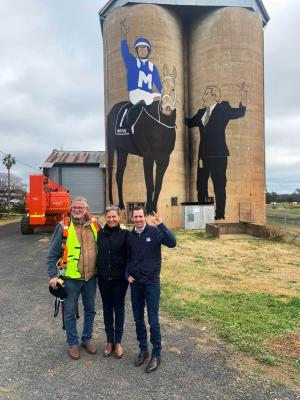 Welcome South Burnett to the Spin column. We will endeavour to keep you up to date with local sporting events as well as some of the happenings across the board in an informative and sometimes light hearted look at events.
It has, to say the least, been a tough time for sportsmen and women, administrators and fans locally and beyond in recent times.
Things I feel must be on the improve. Some local sports are edging back to a start in a new and sometimes challenging environment. Hopefully that light at the end of tunnel is getting brighter. Abiding by a new set of rules and applying yet another dose of hand sanitizer is surely not too high a price to pay.
Cricket (one of my passions) is back in action, albeit it in England and in the NRL the Broncos finally managed a win.
It may be the win that allows Broncos fans to paper over the cracks and pretend all is well with their club. It was however a win and Broncos fans will take any positive they can get at the moment.
They should enjoy that sense of euphoria that came with the win because I am afraid it may not last too long.
On the international cricket scene, there was little joy for the Poms (sigh) after the first Test against the West Indies. I doubt that I am alone in thinking it is great to see a Windies team back on top in a red ball game and in England to boot.
There has been something not quite right in the world order of cricket since the West Indies fell into the Test Cricket doldrums.
The final day of the first Test played behind closed doors in Southampton was indeed a gripping affair. The Windies were chasing a 200 runs to win in what was a see-sawing contest.
The tourists lost three quick wickets and at 3/27 the pendulum had swung in favour of the Poms.
But there were more twists and turns to come. English opener John Campbell was forced to retire hurt; brought undone by the bowling of English quick Jofra Archer.
A magnificent knock of 95 by Jermaine Blackwood put the visitors back in a winning position. Blackwood showed plenty of ticker against the English attack and was dismissed with his side needing only 11 runs for victory.
His dismissal brought a limping John Campbell back to the crease. It was left to Campbell and his captain and fast bowler Jason Holder to scamper through for the winning runs to give the Windies a memorable four wicket win.
Not too long ago sport and especially International sport of any ilk seemed a far off dream. Let's hope that this fluctuating contest was just a tasty entree for what lies ahead after what has been, and are crazy times.
Now if the Broncos can just conjure another win this week Queenslanders will know we have surely turned the sporting corner.
TOUCH COMING BACK
Social distancing might have become the norm but in Kingaroy, Touch is set to return.
The Kingaroy Touch Management Committee has been busy finalising its Covid Safe Plan under the Stage 3 Return to Sport guidelines and have announced that the Season One competition will resume on Monday 20 July.
Expect lots of changes in the way Touch Football is conducted. There will be amended game times with specific entry and exit points. It will be a Get in, Play and Get out model with strict contact tracing. This will require players and officials to sign in and sign out. There will be sanitisation stations at entry and exit points, the canteen and one at each field.
The Kingaroy Touch Association emphasise the need for everyone concerned to strictly adhere to the protocols set out in the Covid Safe Plan. It is the responsibility of everyone involved to keep our Touch Community safe.
Organisers are asking for junior coaches/Referees to advise if they are available to continue. Further information will be available next and players and officials can keep abreast of updates from the Touch Association Facebook page.
KTA are also calling on team coordinators with teams currently registered from Season One to advise if they will continue in the revised competition and to contact KTA as soon as possible via Facebook or email. This will assist organisers as they work to finalise a draw; referees etc.
To meet the Covid Safe plan requirements and allow a return to Touch Football will require the assistance of addition volunteers on game nights. If you are able to help in this area please contact the Association.
CAMPDRAFTERS CORRALLED
Campdraft enthusiasts are another group to see their sport put on ice in 2020. The Australian Campdrafting Association is considering a phased approach to the lifting of restrictions across the country.
As the ACA mooted several weeks ago the Northern Territory is leading the way and Campdrafts have recommenced in the Territory. In a great sign for a return to the sport, both the Adelaide River and Douglas Daly events were well supported and very successful despite some Covid-19 restrictions.
In a positive move for Queensland, an industry plan has been approved for use at Queensland Campdrafts. Early this week the ACA Executive Group hosted two forum sessions, via teleconference, to advise what the requirements are for running a Campdraft under this plan.
The ACA remains positive and the governing body is still promoting the ACA 2020 National Finals Campdraft, scheduled to be held in Nebo from 29 September to 2 October 2020.
The ACA Office Team returned to their office in Roma several weeks ago, and are available during normal business hours. The team can be contacted at 07 4622 3110 or by email aca@campdraft.com.au
ROOKIE PANTHER
Taylah Kidman is a local netball player who has used the opportunity the Darling Downs Panthers pathway offers and she is now set for her rookie season as a Panther. The Darling Downs Panthers are training together as the club gears up for the resumption of netball's Ruby South Series.
The next few weeks of training are sure to be tough with the side desperate to crack the top four in this year's competition. The Panthers are hoping Taylah who is noted as a fast, agile mid-courter with a precision pass, defensive hustle and tough, country mindset has a successful season.
SHE'S APPLES always
Crowds in restricted numbers are now permitted to attend race meetings in Queensland and punters are cheering. Corbould Park, the home of the Sunshine Coast Turf Club's hosted Queensland's main race meeting on Saturday.
Perhaps it was appropriate that one of the major races on the card was the Winx Guineas. The group three event was this year renamed by the SCTC to acknowledge the race which began the mighty Winx's remarkable winning streak of 33 wins which saw her cast aside any and all obstacles.
The 2020 race was won by locally trained gelding Wapiti. His connections will be hoping he shows some of the mare's tenacity, grit and talent in his career.
Winx's tenacity, grit and talent are somewhat echoed by the talented equine artist Peter Mortimore. Mortimore was recently commissioned to paint a mural of the champion mare, her jockey Hugh Bowman and trainer Chris Waller – on a pair of silos in Bowman's home town of Dunnedo.
If you accept the challenge of painting a silo, it's probably best that you are not afraid of heights; something Mortimore realised pretty soon starting the project.
After spending days in a basket swaying in the breeze 19 metres above the ground as he works, he says he has "Overcome his fear of heights."
The artist who runs a gallery in Dorrigo has been painting horses on canvas for 25 years but this project is by far his biggest and most challenging commission. Mortimore said, "I had to work out how to take an A4 drawing and turn it into a 19-metre one. The project which is well underway should take around six weeks to complete.
Jockey Hugh Bowman grew up on a property just outside Dunedoo and he recently travelled back to his home town to check out the progress of the mural and see what all the fuss was about. The artwork got the famous "She's Apples" thumbs up from Winx's jockey.
As Winx fans await the birth of her first foal in the coming weeks, the silo artwork is one among many tributes to the mighty mare however it is perhaps the largest yet. The renaming of the Sunshine Coast Guineas, is a tribute which ensures that the place and race where her amazing journey began will not be forgotten.
If you are a racing fan or a Winx tragic or merely a fan of murals on silos and things, a detour to Dunedoo should be a must on the agenda next time you travel the New England Highway
tennis fixtures back
As the world of sport stutters back to life local Tennis fixtures will recommence this week thanks to the relaxation of Covid-19 restrictions. Players will however be required to follow social distancing and special protocols put in place by Tennis Australia.
Kingaroy and District Tennis Association fixtures will be played on Tuesday and Thursday nights in Kingaroy.
There are around 80 playing and non playing members. The organising Secretary for Tuesday night fixtures is Elmare Vos. She can be contacted on 0405 725 225.
Julie Graham is the organising secretary for Thursday night fixtures and can be contacted on 0468 598 038.
The Kingaroy and District Tennis Association Courts are available for hire at a cost of $12 per/hour daytime (non members) and $8 per/ hour (members).
Inquiries regarding court hire can be made to either of the above telephone numbers. You can also follow the Kingaroy Tennis Association Facebook page for club news and updates..
Players and members are looking forward to the start of the fixtures and welcome anyone interested in joining the club.
START CLOSE FOR JUNIOR NETBALL PLAYERS
Junior Netball players are ready to bounce into action next week and word is they can't wait to get back on court.
The five to six year old Nets commence their nine week season on July 24 in the4-5-pm time slot.
All other age groups begin training on Tuesday (July 21) and will also play a nine week season which will wrap up on September 18.
Training for the Set/Go group (7/10years) is set down for Tuesday's from 4-5pm with games played on Friday between 4-5 pm.
The Nettas (11/12 years) will train Tuesday 4-5pm and their games are set down for the 4.30-6.30 time slot on Fridays.
The 13/18 year old group, the Cadets train on Tuesday between 5-6pm and their games will be played Friday from 4.30-6.30pm.
All players must be registered before attending training and games. On line registrations can be completed by visiting the Kingaroy Netball Association registration page:- www.kingaroy.qld.netball.com.au/content.aspx?file=39302 |44107g
You can follow Kingaroy Netball on their Facebook page or contact organisers by email at kingaroynetball@yahoo.com.au if you have any queries.
MEN'S GOLF CARNIVAL RESCHEDULED
At the request of the Sponsor of the Kingaroy Men's Golf Carnival, the event which was scheduled for 19 July, has been deferred to a date yet to be advised. It appears likely that the vent will now go ahead in September.
The amended date to will be posted on the club's web and Facebook pages as soon as it has been confirmed. The 4BBB Mixed event scheduled for 18 July will also move with the men's carnival.
Extended govt funding – fair play
The Queensland Government has announced it is extending community funding for sport to assist kids to get back in their game of choice in 2020.
Parents will be able to apply for $150 Fair Play vouchers. The vouchers can be used to offset a variety of costs including registration fees, uniforms, or a variety of other costs associated with getting kids back into sport with a registered activity provider. There is a limit of one voucher per child per year. If you have already applied and received a round two voucher the expiry date has been extended until November.
The new round of applications opened on 3 July and close on 7 October. Vouchers must be presented to an activity provider by November 11 and must be redeemed by activity providers by November 25 2020.
A comprehensive list of organisations across the length and breadth of the entire Sunshine Coast regions registered as eligible users of the Fair Play Voucher system can be easily accessed on the Queensland Government website under the Find a FairPlay voucher activity provider tab.
· Email all your local sporting news to spinsft@gmail.com or give me a call on 0438 813 942.