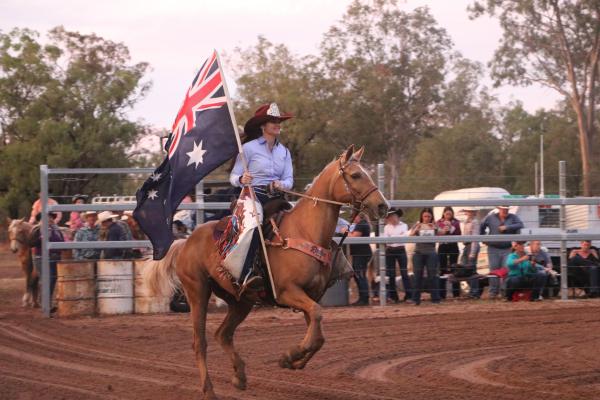 By Julian Lehnert
Thrill-seekers of all ages journeyed to Dallarnil's sports grounds north of Biggenden last weekend to participate in the first stage of the National Rodeo Association's three-round rodeo series.
The event, which spanned eight disciplines on both horses and bulls, commenced on Saturday afternoon and drew over 50 competitors from around Queensland, Victoria and New South Wales.
Riders young and old were allowed to participate in a series of barrel race competitions on horseback, as well as bull rides throughout the day.
The Dallarnil rodeo offered those brave enough to step into the arena nearly $3000 total in prize money across the eight disciplines.
The prize pool attracted some of the top-ranked bull riders in the country to the North Burnett town, including the 17 October Rockhampton rodeo winner Sam Woodall from Victoria, who became a crowd favourite at Dallarnil.
The 22-year-old was one of several riders who took part in the open bull ride competition, the rodeo's main event, where riders were auctioned off to the audience to share in the potential winnings.
Woodall was sold for $210, making him the highest-priced cowboy that night.
While medical staff were on-site to assist riders and revellers, the event recorded no major injuries despite a few nasty spills.
The National Rodeo Association will host the second round of the Dallarnil rodeo on 21 November, followed by Round 3 on 12 December, where recurring riders will be able to compete for the series buckles and even more prize money.