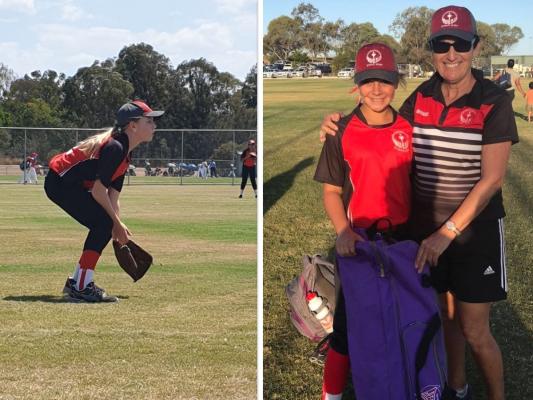 By Jessica Mcgrath
Two North Burnett schoolgirls were excited to have their chance to play for the Wide Bay girls softball team at the state championships.
Eidsvold State School Year 6 student Tameesha Pope and Gayndah State School student Marina Darrow said the experience was fun, tiring and entertaining.
"I was nervous at first, (but) once we started getting into a couple of games I got used to it," Tameesha said.
The girls got to play for the Wide Bay team at the 10-12 years Softball State Championships at Redcliffe from 8 to 11 October.
Tameesha's favourite moment was when they won the last game of the competition.
"I learned that, as much as it is a competition, it can be fun," she said.
When it comes to her favourite spot on the softball field, it was an easy answer for the 12-year-old.
"I like being on first base because you get the ball a lot and you get the outs quicker," Tameesha said.
Marina said she learned a lot about softball while playing for the regional team.
"It was really fun – there were some very talented people in my team," she said.
"I learned how to catch a fly wheel, bunt, have the correct stance, how to bat properly and more.
"I also learnt some great war cries like 'new pitcher'."
There were a couple of moments during the weekend that stood out for the Year 5 Gayndah student.
"When I did a slide to home base, and when I nearly caught a fly ball," Marina said.
"Doing the nutbush on the field with other teams was pretty fun too."
Marina is thinking of joining the Across the Waves Club in Bundaberg, where she would train again with Joy who had helped her prepare for the State championships.
"I am going to try out again for the state school softball and for years to come," she said.
Tameesha is now playing for the Across the Waves Bundaberg team, but trains in Mundubbera.