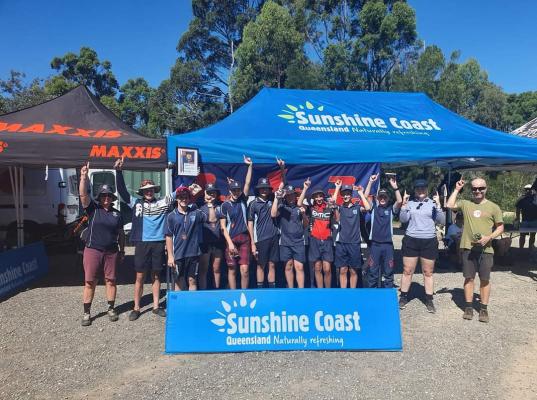 By Laura Blackmore
A bunch of avid South Burnett riders have taken out the top spot at an inaugural race meet.
Nine students represented Kingaroy State High School (KSHS) at the first Sunshine Coast Schools MTB Competition, run by Rocky Trail Entertainment.
Held at Caloundra's Sugarbag Road Mountain Bike Park, the competition involved timed runs on three stages.
Kingaroy State High School teacher Hanna Newton helped coordinate the kids and said she was impressed by the mighty team effort to win the overall event against some strong competitors.
"There was over 160 students who competed from 23 schools in South East Queensland," Newton said.
"For some of the KSHS students, who are seasoned MTB racers, this was not their first school MTB race.
"KSHS has participated in the previous two MTBA Schools National Championships, coming in the top 10 both years.
"There were some impressive individual results from the KSHS students.
"It was, however, a team effort and only because of the participation of the whole group were KSHS able to be the champion school.
"The students outperformed a number of schools who sent many more riders, and who offer MTB as a school subject, which is a fantastic achievement for such a small group of students."
With mountain biking on the rise in the region, Newton said she received some promising feedback from the event coordinators.
"Some of the riders returned the next day and competed in the Shimano GP 4 and 7-Hour Race," she said.
"The organisers were impressed with the depth of talent coming out of the South Burnett, which is a credit to the trails being developed in the local area, by the South Burnett Mountain Bike Club."
KSHS competitors:
Senior Boys: Jacob Provan (Year 12) and Jacob Slatter (Year 11).
Intermediate Boys: Dylan Provan and Cooper Rabbitt (both Year 10).
Intermediate Girls: Luca Turton (Year 10) and Becky Provan (Year 9).
Junior Boys: Oliver Vogelaar and Zach Farmilo (both Year 8), and Connor Scott (Year 7).
Results:
First Senior Boy and overall fastest time: Jacob Provan.
Second Senior Boy and third overall fastest time: Jacob Slatter.
First Intermediate Girl and overall fastest time: Luca Turton.
Third Intermediate Girl: Becky Provan.