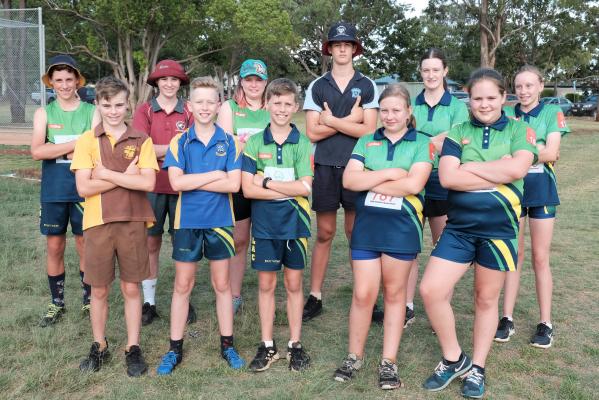 By Jessica McGrath
A dozen budding athletes will be representing the South Burnett at the upcoming state competition.
The South Burnett Little Athletics members will compete in their allocated field or track relay teams at the Little Athletics State Competition on Saturday, 12 December with the junior athletes who ranked first, second or third in their regional athletics events getting the opportunity to compete at this exciting next level.
South Burnett Little Athletics Centre manager Kaylene Kapernick said they were proud to have 12 athletes attending.
"Sometimes it brings the best out of the athletes – at the bigger competitions a lot of kids achieve personal bests which is always nice," she said.
Bridget Searle will make her first state appearance in the under-16 Discus relay.
The 14-year-old athlete said she was both excited and nervous about competing.
"I started Little Athletics last season and I've been improving," she said.
Maddison Richards will also be in the discus relay as part of her first state level experience.
"I'm still kind of not believing it," she said.
The 15-year-old, who also broke the Goomeri State School discus record this year, has been training every day to prepare for her event.
She said the relay set-up allows them to be partners with someone in what is traditionally an individual sport.
"You can help them improve and they can help you improve," Maddison said.
Kapernick said some of these students were part of a relay team of athletes from smaller regional centres.
"Having a small centre relay team means we can compete in more events," she said.
"They get to work with other children they don't really know."
Some students, like 16-year-old Abbey Kapernick, are the only ones in their age category in the South Burnett.
The small-centre team set-up ensures she can still compete in a relay team within her age-group.
Abbey will compete in the long jump relay for the South Burnett team and discus, as well as the 4×100 metre relay for the Small Centres team.
Alex Farmilo, 11, will also compete in the Small Centre Team for 1000 metre Swedish medley relay and 4×100 metre relay.
Abbey had the opportunity to compete last year and is looking forward to her last chance to compete with Little Athletics at a state level before she is too old.
"I'm kind of used to it by now, it's more exciting than nerve-racking," she said.
"The relay is a real team atmosphere, it's not so much an individual effort."
"I'll be sad to stop Little Athletics, but there's still Queensland Athletics and I can come back here and coach."
Nine-year-olds Chloe Gibson and Emily Bolden will also be having their first state experiences competing in the under-10 girls shot-put relay.
"I'm a little bit nervous, but also excited at the same time," Chloe said.
Jenali Bolden, 11, will be competing in the under-12 high jump relay, long jump relay, discus relay, 1000-metre Swedish medley relay and the 4×100 metre relay.
Fellow athlete, 11-year-old Ryan Mollenhauer, will also be competing in several events including the under-12 high jump relay, long jump relay, discus relay, 1000 metre Swedish medley relay and 4×100 metre relay.
James Searle and Harvey Sawtell, both 12, will both compete in the under-13 shot-put relay.
Zachary Farmilo, 13, will compete in the under 15s high jump relay, and Joshua Freeman, 14, will compete in the under-15 long jump relay, discus relay and high jump relay.