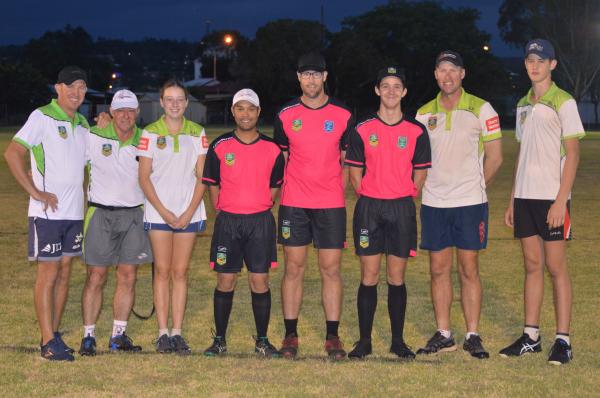 By Jessica Mcgrath
In a display of fast play and skill, Young Guns beat Cherbourg Murriez for the champion spot by just one try.
Kingaroy Redbacks Touch Football Association president Rob Taylor said it was a tight Division 1 grand final on Monday, 7 December.
"It was a close game as we all knew it would be," he said.
Division 1's Young Guns beat Cherbourg Murriez 6-5, while Cherbourg's Bernard Hopkins was named player of the final.
"Cherbourg Murriez took over from the old Cherbourg side that never came back after Covid," Taylor said.
In the first round of finals, Young Guns and Cherbourg Murriez went into extra time with a drop-off, bringing the on-field team down to four players.
"Young Guns won and Cherbourg had to come back and fight back through the semis again," he said.
In Division 2, Integral Fitness claimed a 4-1 win over Wild Hogs and Integral's Toby Schmidt was recognised as player of the match.
Meanwhile, Division 3's contest crowned Ant Touch Me 10-6 over Try Hards after a close, try-for-try game.
Ant Touch Me's Jayden Smallwood was named player of the grand final.
Usually the club runs two seasons, however this year they opted for one, extended season due to Covid-19 disrupting season one play.
The sports club was one of the few to resume its season, starting back play on 12 October after months off with a new Covid-safe plan and rules.
"The season stayed strong right until the end, just with the Covid shutdown it was a bit hard," Taylor said.
There were 22 teams split into the three 'pretty even' divisions for the finals.
"It was good to get started again and we ended up losing two teams, but had two teams come in once we kicked off again," Taylor said.
Bright future for Redbacks
Kingaroy Touch announced some name changes and new partnerships this year.
At the end of June, it made the decision to move over from the Red Ants Rugby League fields to the Kingaroy Junior Redbacks Football fields.
Taylor said they were thrilled with their new home grounds and getting the opportunity to work with another club – Kingaroy Junior Redbacks Football.
During 2020, the touch football club changed its name to better align with its new home, becoming the Kingaroy Redbacks Touch Football Association.
"Because it's called the junior redbacks soccer, we want to eventually create a sporting club called 'Redbacks Sporting Club' that's our goal," Taylor said.
Next year the club will work around the junior soccer season, as they will share the grounds.
Upon searching for inspiration for an updated logo, the club stumbled upon another partnership.
Kingaroy Touch vice-president Paul Jones found the perfect 'spider' logo on the Maitland Redbacks Touch Football Association's site.
He got in touch with the touch football club from New South Wales, which was keen for the clubs to share emblems and become 'sister clubs'.
The two associations got the tick of approval from both Queensland Touch and New South Wales Touch, and are excited for their future's potential.
"We're going to try eventually one day, when Covid drops away, they're talking about bringing teams up here and we bring teams down there," Taylor said.
Jones was equally keen about the potential for an inter-state carnival between the 'sister squads'.
"It'll be terrific to take a group of guys from here down to Newcastle at Maitland, hopefully next year, and take the bus down for a road trip," Jones said.
In the off-season, the club has some plans to prepare for 2021.
The members plan to move one field down, so four fields can be marked out and put in more and higher lighting poles.
Next year will hopefully be back to two seasons, and each team will stay in the divisions allocated to the during the 2020 finals.
The 2021 Kingaroy Redbacks Touch season will kick off on 1 February.
Kingaroy Redbacks Touch Association is currently designing its touch jerseys for the 2021-2022 touch seasons.
They are currently seeking corporate sponsorship, giving companies an opportunity to advertise on their website, social media platforms, representative jerseys, junior training shirts, and around the touch grounds.
Anyone interested in corporate sponsorship or more information about Kingaroy Touch can email Paul Jones at kingaroytouch@hotmail.com