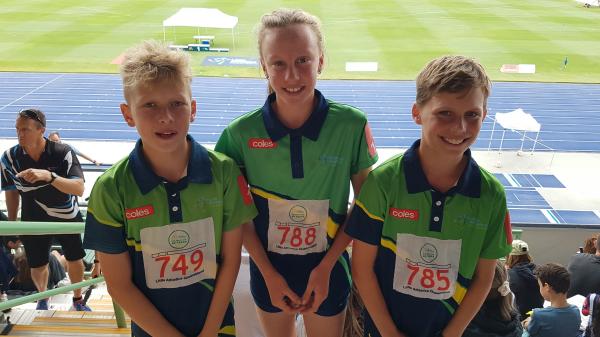 by Jessica McGrath
Two South Burnett Little Athletics members recently made their mark on their club records.
Joshua Freeman and Chloe Gibson made club records at the State Relay Championships during December.
Chloe Gibson threw 7.97m in the U10 shotput event, beating her personal best of 6.9m.
Meanwhile, Joshua Freeman recorded 35.76m for U15 discus, a 5cm improvement on his previous pb, and equaled the club record for U15 high jump at 1.76m.
A dozen South Burnett Little Athletics members competed in the State Relay Championships.
Chloe and team mate Emily Bolden came first in the U10 shot put relay.
South Burnett Little Athletics Centre manager Kaylene Kapernick said it was a fantastic effort from both girls.
"This pair blitzed the field event with an impressive win with a combined score of 14.15m to take the winning position," she said.
The South Burnett U11 representatives of the Swedish and 4x100m teamed up with another small centre athlete to compete in these events.
Their team finished 15th overall.
Ryan Mollenhauer and Jenali Bolden teamed together in the mixed high jump, discus and longjump events.
"They competed well in these events, but unfortunately did not bring home a new P.B.," Kapernick said.
In the U13, Harvey Sawtell and James Searle recorded good throws in the shotput relay.
They recorded a combined score of 13.15m.
Zachary Farmilo competed up an age group so he could compete alongside Joshua Freeman in the U15s high jump and long jump.
This allowed a club team to be made, despite a lack of numbers in the same age group.
The South Burnett U16 duo, Bridget Searle and Maddison Richards, tackled the discus -Bridget was also competing up an age group.
"Both girls recorded a season best for themselves in the results from the event," she said.
Connor Richards got called in at the last minute to pair up with fellow South Burnett member Joshua in the U15 Discus.
He was asked to compete up an age group, since he had competed at the Regional event and the team's original athlete could not make it to the State event.
Abbey Kapernick has now completed her final year as a member of Little Athletics.
She was very pleased with her performance at the State Championships.
Abbey was a member of the Suncoast U17 Girls Region team, which was made up of the four fastest runnings from the Suncoast region.
"This team had a convincing win in the 4x100m relay with a time of 52.21sec," Kapernick said.
Abbey also competed in the U17 small centre team which placed 6th overall in the 4x100m relay.
Small centre teams consisted of athletes that were from clubs with a member base of less than 100 athletes.
Within the U15-17 age groups, small centre teams were allowed to form multi-centre teams with athletes from any centre in the region if athletes in that age group were not available from that centre.
"Abbey is the sole U17 athlete from South Burnett – so this is the only way that she can compete in the Relay events," Kapernick said.
"Other events for Abbey were Long Jump and discus. She did a PB in the discus."