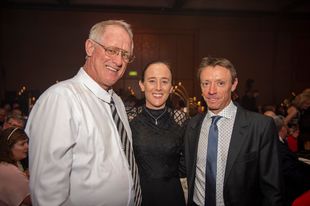 By Kate McCormack
Hannah Phillips has thundered into 2021 in speed and style, securing her 150th career win at the Bell Races over the weekend.
After claiming the fourth race for the day, the maiden plate 1000 meter on four-year-old gelding Kartanup, Hannah said she was proud to share the victory on Saturday with her beloved dad and horse racing veteran, Barry Phillips by her side.
After a promising country racing season in 2020, the 30-year-old jockey is fast becoming a name to watch and Phillips said when it comes to living life on the track, racing is very much a family affair with Hannah quite literally taking over the reins from her father.
"Dad is Kartanup's part owner with Robert Crumpton and he's also his trainer so it was very much a celebration for the whole family on Saturday," she said.
"Dad picked him out as a yearling at the Magic Millions and we've done all his education so it was nice to finally get the win we've known he had in him all along."
Phillips said she was raised by the racing industry, growing up surrounded by horses it was a no-brainer the youngster gravitated towards life in the saddle.
"I always loved horses and grew up in racing, but I didn't decide to become a jockey until I was 20," she said.
"My brother and sisters and I were creating games to play on the horses one day and Dad suggested we see who could ride in a jockey saddle the longest. I took to the short stirrups like a duck to water and the rest is history.
"My first race was on a horse called Lucidity for trainer Scott Rodgers at Roma on 22 February, 2014. She ran second and I remember the whole race very clearly, especially waiting in the barriers for the gates to crash open.
"My first winner was later that year in April at Nanango on a horse called Kilgharrah, trained by Pat Sexton and since then I've been working hard to gain as much industry experience as possible."
For the most part, Phillips considers herself Nanango born and raised, having spent a few years in the Redlands region giving showing and dressage a crack followed by five years in the United Kingdom as a polo groom, as well as volunteering with Riding for the Disabled.
"Dad has lived in the South Burnett since before I was born and always had horses so I'd spend whole days in the saddle whenever we visited," she said.
"Having him train me has been so rewarding because he's had so many years of experience himself and it's great that we get to share the big moments like this together.
"One of the most important things he's taught me is how to get them out of the barriers fast. It was one of the very first things he taught me as an apprentice jockey and I still use that same very basic method every time."
Phillips' victories haven't come without their setbacks and sacrifice.
"I've had two big setbacks in my career to date," she said.
"I broke my right knee hitting the gates just a few months after I started riding, then in 2016 I had a nasty bout of double pneumonia that side-lined me for eight months.
"Compared to most jockeys though I've been relatively injury free, which I always count my blessings for.
"I was also booked to go to Taroom for their Boxing Day races but they got rescheduled to this Saturday so I was actually able to have my first Christmas lunch in five or six years," she joked.
"Not being able to have Christmas lunch because I need to make weight for the Boxing Day races is definitely the hardest part of being a jockey… It's cruel and unusual punishment watching everyone else eat Pavlova."
But the missed desserts are all worth it for the sheer thrill she gets from piloting half a tonne of galloping horse into another picture-perfect first place finish.
"Winning is undoubtedly the best part of the job, but I also really enjoy building a connection with the horses.
"There are certain horses that I've really clicked with over the years. I've ridden over 1500 individuals and educating youngsters is one of the highlights.
"I love it when they figure out how to go fast with a rider on and then that's all they want to do. Thoroughbreds are so smart and enthusiastic.
"Al's Briefs and I won eight together, Jeptoo won seven with me in the saddle and another special one was a horse of Dad's called Captain Clayton who won five for me and was also my favourite day to day ride.
"My career highlight to date has definitely been winning three races in a row on a five-year-old mare named Spirit's Choice for Matt Kropp back in January 2019 at Dalby.
"One of those wins was my 100th first place too so a lot of special memories were made."
Phillips says the best piece of advice she can give any young jockey is simple.
"Be mentally and physically resilient, always show up on time and ride every horse to win."
As for the rest of 2021, this young jockey said she's optimistic Queensland Racing will be able to host a number of cracking annual race meets as restrictions hopefully continue to lessen.
"My goal for 2021 is the same as all the other years: keep riding winners! I'm off to Rockhampton on Wednesday, Sunshine Coast Friday night and then five rides at Taroom on Saturday, 9 January if everything goes to plan," she said.
"I'm also really looking forward to the first South Burnett race meet of the year in Nanango on Saturday, 13 February.
"The best thing about country racing is the people. From the fashions on the field, to CWA canteens to all the thousands of people the horses themselves keep employed, racing is the lifeblood of so many country communities.
"I love seeing the huge crowds at meetings from Bell to Clermont to Nanango to Birdsville. People really enjoy their day at the races.
"There is nothing quite like the thrill of happy, healthy, shining horses racing up that straight determined to win.
"As long as people still love a day at the races, the future looks bright."
To find out more about Phillips read her Burnett's Best Q&A on page 14 and to see more photos from Bell Races on page 38 and 39.