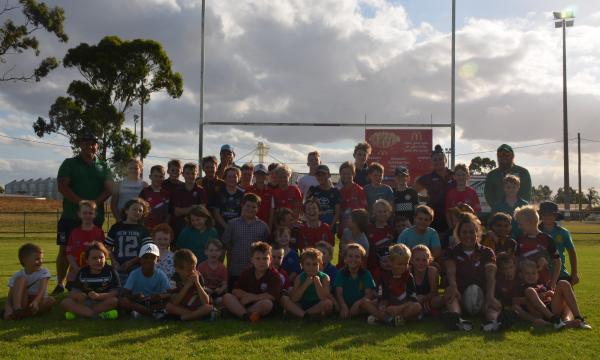 By Amy Buckingham
Titans and Broncos stars taught gratitude, resilience and support to South Burnett primary school students at rugby league clinics across the region.
Titans ambassador Tyrone Roberts, and National Rugby League Women's players Tallisha Harden and Annette Barber led Road to Regions in Kingaroy, Nanango, Murgon and Cherbourg from Monday, 8 to Wednesday, 10 February.
Helping the youngsters practise scoring tries, passing balls and playing games, Roberts said he used his story to empower rugby league communities doing it tough.
"I came here not only to promote rugby league, but also to show the kids that I came from regional New South Wales and I have made something of myself so they can do that too if they want to," he said.
"I grew up surrounded by drugs and alcohol, but I made scarifies and chose education so it's not over for you just because you had a tough start in life.
"I am injured at the moment so I am focusing on doing whatever I can for communities."
Determination was something Roberts and nine-year-old Joey Davies had in common, as Joey said he persisted with some difficult drills at the clinic.
"I lost my shoe a few times kicking the ball, which was funny and frustrating," he said.
"I found it hard when we played one-on-one and we had tagged the other person with two hands, but I didn't give up."
In addition to resilience, NRLW player Tallisha Harden said gratitude and support were also key takeaways from the activities.
"We spoke to kids about having a positive mindset and being thankful for what they do have, rather than focusing on what they don't have," she said.
"There were some great responses – someone was grateful for their chicken, another person for their family, and a third for their community.
"This idea of gratitude complimented our next teaching of support, which was all about knowing you have a network of people you can reach out to for help."
South Burnett NRL game development officer Brennan Brown said the region was lucky to receive these educational visits.
"The NRL community selected a few rural areas where NRL engagement was struggling, so we were fortunate to get this opportunity," he said.
"It was awesome for the kids to be able to play footy with people they watch on TV and everyone involved had a ball.
"We had a bigger turnout to the clinic than expected so it's great to see so many people interested in rugby."