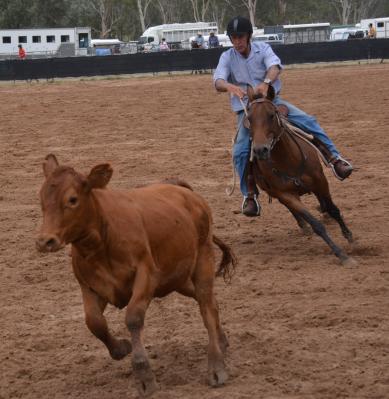 By Amy Buckingham
Cooyar experienced its busiest campdraft in years with 1500 horse riders saddling up after the pandemic put horse performance events on a hiatus.
Judges scored competitors on horseback on how well they could control cattle around a small yard in several divisions at the Cooyar Campdraft from Friday, 19 to Sunday, 21 February.
Cooyar Agricultural Society chariman Paul Barron said the three-day draft was a huge hit with competitors travelling from all over South East Queensland and parts of New South Wales to try their luck.
"Campdrafting has turned into a huge sport in Australia, and we had more than 400 people who wanted to compete on the waitlist," he said.
"I think people were just happy to get out, enjoy the course, and talk to other like-minded people as there weren't many campdrafts over the last year because of Covid-19.
"The event was also a good way of raising some much-needed funds towards improving and upkeeping our grounds."
Mr Barron said the popular family event saw people of all ages and experiences compete.
"We've had some really great runs today with pretty high scores in the 90s," he said.
Pilton competitor Frank Green said there was not a trick to getting a high score, rather, it came down to practice and a bit of luck.
"I don't think you can outsmart cattle, instead I think it's about hoping you get a few nice animals and practising your horse work," he said
Despite some light showers, Mr Green said he was confident the well-surfaced grounds would help him get the best run out of his horse.
"There have been a few dark clouds, but I think we will be fine so long as it doesn't storm," he said.
While some competitors like Mr Green have been competing since they were young, there were novice horse riders at the event like Nobby woman Essie Hamilton who said she has never won a draft.
"I have only been competing for three years, but it has been great to come down for the weekend and get some more experience," she said.
The divisions included the open draft, maiden for maiden draft, ladies draft, novice draft, Bendigo Bank junior draft, and Bendigo Bank juvenile draft.
For a list of the winners and photos of all the action, see page 47.