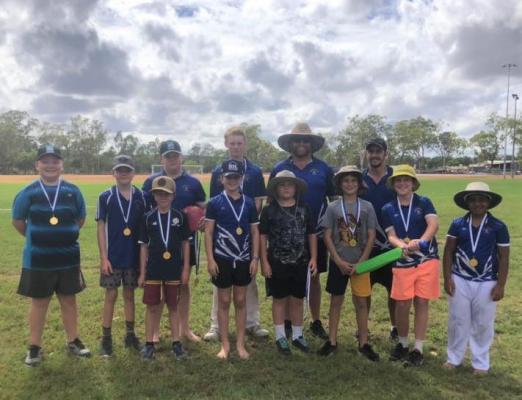 By Jessica McGrath
Monto Junior Cricket Club wrapped up its season with the combination of cricket games and water balloons.
The club recently held its break-up, which included lots of fun playing games like tunnel ball and cricket-based games.
Club secretary and treasurer Georgie Kelly said they were thankfully able to host a break-up complete with a sausage sizzle, after last year's was cancelled due to Covid-19.
"The morning was then followed by presentations, where all the members were presented with a medallion, and six trophies were awarded," Kelly said.
Monto had a strong season, thanks to the dedication of all involved.
"Our cricket club is only as strong as our kids' participation, our parents, volunteers, the committee's dedication, and our community support," she said.
"We are so grateful to be surrounded by eager kids – they drive us to continue cricket for them."
This year the club saw a huge improvement in the members' development and skills, thanks to the coaches, parents and volunteers who are continually working hard to deliver fun and engaging mornings.
Some of the season's highlights included older junior members getting the opportunity to play against the Mundubbera Club three times, with one home game.
"These games were a wonderful opportunity for our members to play as a team, travel as a team (with thanks to the sponsorship of the bus by North Burnett Regional Council), and test our skills and development against others," Ms Kelly said.
"Our members learnt a lot and relished in this opportunity."
Monto Junior Cricket Club was fortunate to host Queensland Cricket this season, when it delivered a player coaching course and coach development afternoon in February.
"This gave our members an opportunity to hone their skills and a fantastic opportunity for parents, coaches and volunteers to learn new skills, ask questions and see new ways to deliver training sessions."
Monto Junior Cricket's trophy winners were:
Batting Average – Bailey.
Batting Aggregate – Bailey.
Bowling Average – Bailey.
Bowling Aggregate – Declan.
Most Improved – Daniel.
Coaches' Award – Brooke.