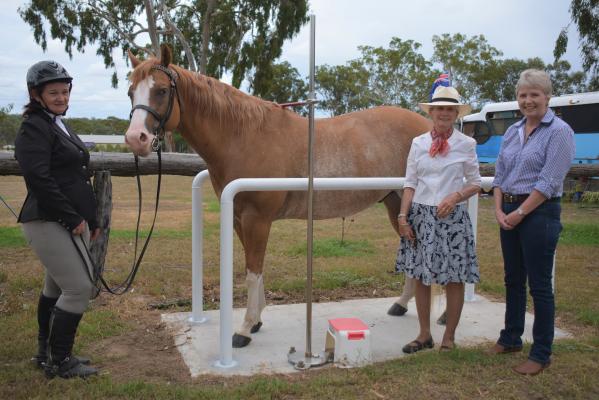 By Jessica McGrath
The South Burnett is now well and truly on the equestrian map with its latest addition sure to save local riders the fuss of travelling horses.
An official measuring stick and bay, required for recording a horse's official height, has been installed at the Nanango Showground.
Chief horse measurer for Equestrian Queensland, Gail Iskra officially unveiled the device during the South Burnett Equestrian Group's 'Start the Year Right Hack and Hunter Day' on Sunday, 28 February.
Julie Croker's registered Paint Horse 'Corprate Zippo' was the very first horse to be measured.
Ms Iskra used the measuring stick, which is calibrated and complete with a leveller on the base and the stick, to record the horse's height. It records the distance from the ground to the horse's wither – the ridge between the shoulder blades of the animal.
"It's a much needed measuring bay so all of the horses can be measured the correct height," she said.
They allow the horse time to relax in the measuring bay, as a horse tensing up will not measure its true height. They also take any shoes into consideration when recording the horse's official height.
"A horse must stand on all four feet, with equal weight," Ms Iskra explained.
"It means everybody competes on a level playing field when it comes to heights."
A horse is required to have its height officially measured every year for all Equestrian Queensland events and royal shows.
The Nanango measuring bay is now offered as a service to all of those around the South Burnett.
"If they have competitions here, they can get the horses measured," Ms Iskra said.
She acknowledged the South Burnett Equestrian Group's initiative to apply for a grant for the measuring bay.
Nanango councillor Roz Frohloff said the new measuring stick was a win-win.
"It's fantastic – it's not just Nanango that's going to benefit, but the other groups around (too)," she said.
"If we can help sporting community organisations around the South Burnett so that they benefit the community, it's a win-win situation."