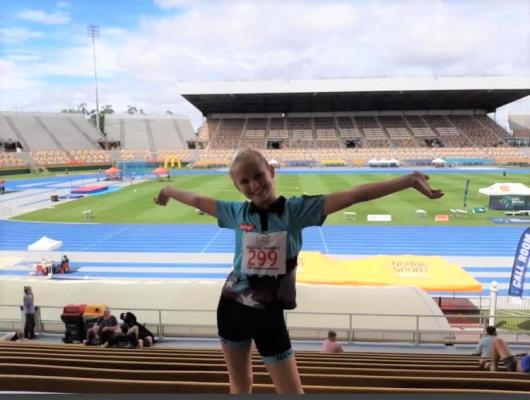 Nanango Little Athletics Club are proud to host two state champions from the recent Queensland competition.
Standout performers, Harrison Weil and Paige O'Connor, both won gold in their respective competitions.
Centre manager Brendan Weil said he was equally pleased with the performance of all six athletes who represented Nanango at the Queensland Little Athletics State Championships on 20 to 21 March.
"For such a small centre our club performed exceptionally well with our athletes earning PB's, making finals, winning six medals and even a couple becoming state champions," he said.
Weil said it was a huge highlight to see their small club perform so well on the 'state stage'.
"For most of the year our athletes have trained and competed on a mostly dirt track, but they have always listened to their coaches and tried to do their best and be their best," he said.
"To see these athletes compete against the best Little Athletics clubs in the state and hold their own was a real highlight.
"To have a couple of state champions is a great reward for all the hard work by our athletes and volunteers and shows that our small club is doing something right."
Here is a run-down of each of our athlete's performances:
– Mia DeJong competed in the U12 girls 400m, finishing running a PB and placing 3rd in her heat and 11th overall.
– Ada Kurz ran in the U10 girls 60m hurdles, running a PB and making the final eventually being placed equal 7th overall after her final was cancelled due to dangerous weather conditions.
– Cooper Weil competed U13 boys and finished 9th in Shot put with a PB, he made the final in the discus (throwing a PB) and placing 7th overall, he ran a PB in the 400m finishing 13th overall and he was unfortunately injured while competing in the 200m hurdles.
– Paige O'Connor ran in the U16 girls 1500m where she won earning a gold and the title of state champion
– Harrison competed in five events and medalled in all five. He received bronze medals in triple jump and 100m hurdles, a silver in long jump and won gold in both javelin and discus becoming a state champion in both.
– Selina Birch ran in the U17 girls 400m, finishing 11th overall.
This was Selina's last state championships.
"Nanango Little Athletics are very proud of the effort and dedication she has shown over the years that she has been competing in athletics," Weil said.
"Selina has been a wonderful role model to the younger athletes in our club, always giving her best and always there to lend a hand."