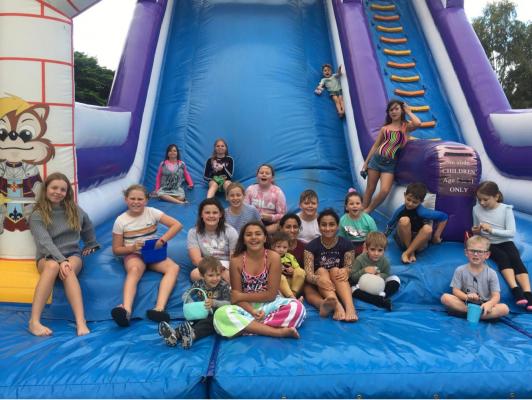 by Julian Lehnert
Gayndah's swimming pool is sending the season off in style after welcoming locals big and small to its Easter weekend celebrations.
The pool, run by Gayndah locals Ben and Amy Golchert, hosted its last event of the swimming season in the shape of an Easter-themed fun day on Saturday, 3 April, complete with egg hunt and inflatable slide.
"We have just purchased the ten metre-long, five metre-high inflatable slide as a bit of extra 'out of water' fun, which we will continue to offer for fun days throughout the pool season and also for private functions," Mr Golchert said.
Gayndah swimmers turned out in force to seize one of the last chances to go for a dip in their local pool before the cool season starts off in earnest.
"We had a good turnout for the Easter party with around 70 people… with many braving the slightly cooler water as we head to the off-season," Mr Golchert said.
"We close from this Sunday and already are brainstorming new ideas to introduce next season!" he added.
The Gayndah pool will reopen at the start of the Term 3 school holidays on Friday, 17 September.