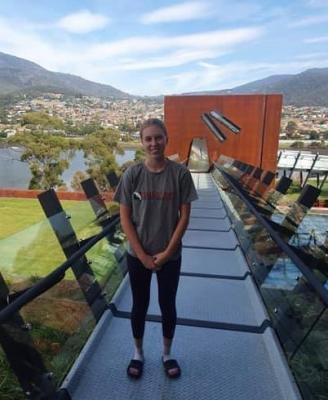 By Amy Buckingham
A 16-year-old Coolabunia mountain biker suffered a setback recently when she was close to claiming a win when her chain snapped.
After this pulled Luca Turton out of her first race of the weekend, she came back in the next course riding neck and neck with her competitor until she sped in to sixth place.
On Saturday, 10 and Sunday, 11 March, Luca competed in the Mountain Bike national championships in Tasmania as the sole Under-19 Queensland female cross country competitor.
Luca said she had a strong start in the Cross Country Olympic race on Saturday until the rain made the track difficult to ride on.
"I had an awesome start riding on the single track in and was in second place and feeling strong," she said.
"Unfortunately the rain turned up a bit earlier than expected and turned the previously dusty tracks to mush, causing my wheel to clog up with mud.
"My chain then snapped further up the track ending my race.
"I was pretty devastated with the outcome, but I knew I did everything right and was really happy with my preparation up to this point."
With demanding, slippery climbs and steep, rocky drops, Luca's dad and South Burnett Mountain Bike Club president Daniel Turton said the course was one of the toughest he had seen.
"Luca did exceptionally well," he said.
"She had some bad luck with her chain breaking but that is all part of racing."
With a refined focus, on Sunday Luca hit the 20-minute short course where she took out sixth place.
"This was my chance to leave everything I had out on the track," she said.
"After a tight little battle with one of my competitors, I was very proud to finish in sixth."
Luca said she was happy she had improved her skills over the years, and was looking forward to competing in more competitions, especially those involving downhill courses.
"I am happy with my improvement in technical ability and race mentality over the past three years," she said.
"I am now even more motivated for next year with a very clear development focus."
Luca is set to ride in the State Series, Queensland State Championships, and Marathon Nationals next.