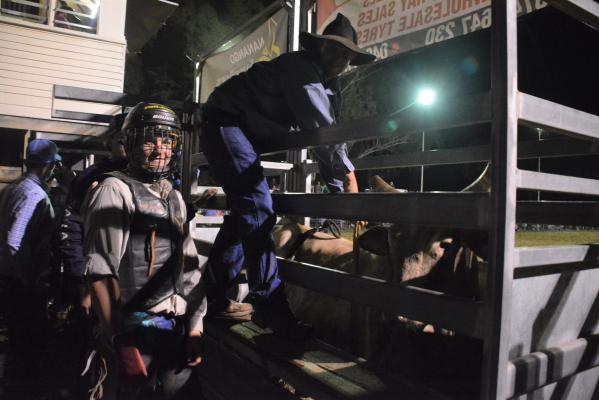 by Jessica McGrath
Nanango rider Cody Hancock went for his first bull ride at the 2021 Nanango Rodeo.
The junior rider got ready for the Under 18s competition with assistance from his dad, Danny.
"It was alright, I was a bit nervous," Cody said.
"I'd do it again though."
The 17-year-old rider said he loves the adrenaline and has watched both his father and grandfather compete in rodeos over the years.
Cody has competed in the poddy and steer events and last Friday moved up to his first under-18s Junior Bull ride competition.
Nanango Show Society president Les Schloss said the rodeo had great support.
"There's 60 odd entries, which is very good," he said.
He said the rodeo on Friday, 9 April was the perfect way to launch the annual Nanango show.
"It gets them all in the show mood," he said.
"The new concept is brilliant… we're over the moon to see so many people to support us."
Previously the rodeo was held late in the day on the Saturday of the Nanango Show weekend, however the show society made the decision to change it to Friday. This ensure all of the show events were more spread out to assist with physical distancing.