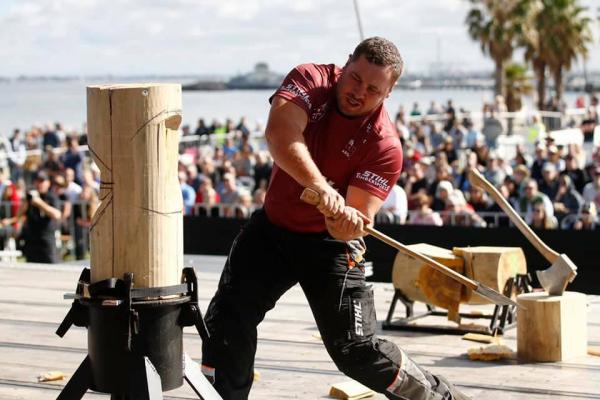 by Jessica McGrath
Blackbutt's Mitch Argent has just added another trophy to his collection and will be eyeing off more at a competition in his home-town this Saturday.
Argent axed the competition at the 2021 Stihl Timbersports Australian Trophy event in Melbourne on 8 May.
He battled it out against 13 of Australia's best athletes in the extreme sport, chopping and sawing through four blocks of wood in a time of just 1:24.57. He beat out Victorian and reigning world champion Brayden Meyer by 8.57 seconds in a thrilling grand final of the knock-out competition.
"It was a big day and I had to dig deep. The boys were really tough competition, but it's good to take out the competition in the end" Argent said.
This marks the third year that Argent nudged out the competition to claim the STIHL Timbersports Australian Trophy. On the way to the final he placed second in the time trial with a time of 1:15.29 to advance to the knockout stages where he beat Chris Owen in the quarter finals in 1:24.08 and Brad De Losa in the semi final in 1:18.62.
The athletes went head-to-head in a series of knockout match-ups. In each of these, athletes completed four disciplines back-to-back: Stock Saw, Underhand Chop, Single Buck and Standing Block Chop. The fastest athlete then progressed to the next round.
Meanwhile, Renee Retschlag from Kilcoy took out the national title for the 2021 Stihl Timbersports Australian Women's Championships.
It was an incredibly close competition, two ladies tied on 13 points at the end of three Timbersports axe and sawing disciplines. The champion was awarded based on a countback of combined times, which had Retschlag just under 6 seconds faster than runner-up Jodie Beutel, from Crow's Nest.
"I feel awesome! I've been chasing the Australian Women's Championship title since I placed second in 2017 and 2018, and I've been training really hard and working on my competition mindset in preparation," Retschlag said through tears straight after her win.
"I've worked hard on the Single Buck discipline and I'm really pleased with how I went today."
This comes as Blackbutt prepares to host their own woodchop event this Saturday, 15 May -including two Queensland Title events.
The Blackbutt woodchop and Bazaar Markets events will be in lieu of the 2021 Blackbutt Show, which was cancelled due to the pandemic uncertainty.
Blackbutt Axemen and and Sawyers Club members came together to plan the 2021 woodchopping event, which will be held at the Blackbutt Showgrounds.
Covid rules will still be in place, but the day will be jam-packed full of woodchopping. Local world champions will be competitors on the day, likely including household names Argent and Retschlag.
Wood chips will be flying from 9am until late, with a BBQ lunch from 12pm-1pm and the bar from 11.30am until 6.30pm. A coffee van will take up residence beside the competition and will also be selling hot chips.
There will be no eftpos available at the BBQ or Bar on the day, so come prepared with cash.
As the woodchop event is run solely by the Blackbutt Axemen and Sawyers Club, the members ask for a gold coin donation to the club upon entry.
In conjunction with the woodchop competition, the 'Top of the Blackbutt Range Bazaar Markets' will give people an opportunity to explore the various stalls. These will include handmade goods, food stalls, local wares and jams. The markets will be held at the Blackbutt Hall from 7am to 1pm and will be free entry.