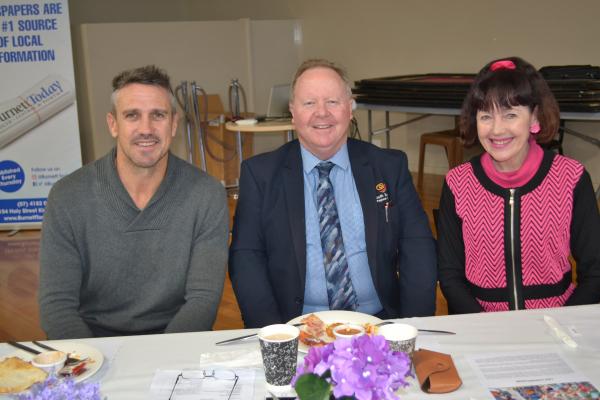 by Jessica McGrath
Two cricketing legends were reunited at the Mayor's Community Charity Breakfast for Relay for Life.
Former Queensland Bulls player Lee Carseldine's recent meet up on 30 April at the Kingaroy RSL with former Australian cricketer and South Burnett Relay for Life patron Carl Rackemann was a lot smoother than their first meeting.
"I'd played with Valleys -I made my debut with Matthew Hayden as a 16-year-old playing first grade," Carseldine said.
He still remembers that day towards the end of Rackemann's, nicknamed 'Mocca' by his teammates, professional career when Carseldine played a trial game for Wests.
He said it can be very scary as a child when you see your hero.
"He [Rackemann] was bowling and I was this young kid coming through and apparently the 'next big thing'," Carseldine said.
"I was trying to focus 'this is Carl Rackemann and he's THE Australian fast bowler' and here I was like a deer in headlights.
"I didn't even move and the ball hit me in the chest and in typical 'Mocca' fashion, he came over and says 'so this is the next big thing is it?' and walked away… I didn't leave a very good impression."
Even though Carseldine retired from professional cricket 10 years ago, he still feels part of the 'cricket family'.
"Especially being in the squad in Queensland at the time, knowing how to be a good cricketer… you're in a team, regardless of whether you won a competition you're family forever," he said.
Post-professional sport Carseldine has become an entrepreneur, businessman, media personality and reality TV Survivor star.
"Since I retired I'm always looking for a challenge," he said.
He competed in the 2016 season of Australian Survivor and finished as the runner up.
"Fans thought I should be gone in the first week, but I made it to the last round," Carseldine said.
Carseldine then returned to the All Stars season in 2020.
He was 33 days into the filming when he was told by the producers his mum had died after having a stroke.
"My dad had a stroke 15 years before that and my mum looked after dad," Carseldine said.
"Mum had the stroke and we lost her while I was on the island which was traumatic."
There is one stroke in Australia every 19 minutes and more than 445,000 survivors of stroke live in Australia.
Six months later Carseldine and David Genat, the 2020 Survivor All Stars winner and international model, established the 'Towel Challenge'.
"It was 'what can I do out of a really bad situation?' -It was my way of coping with my grief which had played out on national TV."
The pair established a calendar of photos of celebrities taking on the 'towel challenge' as well as merchandise gym towels to raise funds for the National Stroke Foundation.
"Not a day goes by that I don't think of my beloved mum – and I know I am not alone," Carseldine said.
"More than 27,400 Australians had a stroke for the first time last year. It can change lives in an instant and families can feel the impact for many years to come.
"While the Towel Challenge is a bit of fun, there is a really important message at its heart."
This initiative won Carseldine and Genat the 2021 Stroke awards' Fundraiser of the Year, which was announced last week.
The duo's 'Towel Challenge' social media campaign and calendar raised vital awareness and funds for stroke nationally, with almost $50,000 raised.
Never one to shy away from a challenge, Carseldine also completed a double masters degree in finance after retiring from cricket and went on to launch his own business 'Droneit Group' -which aligns his passions for travel, adventure and content into an aerial media and training company.
Carseldine's appearance at the Mayor's Community Charity Breakfast was just a taste of the stellar line-up for this year's main South Burnett Relay For Life fundraiser 'Dinner with the Captains'.
The 2021 'Dinner with the Captains' guests will be beach volleyball player Natalie Cook, bowls champion Kelvin Kerkow and rugby league legend Allan 'Alfie' Langer. Dinner tickets are now available from Crow FM on 4169 0700.