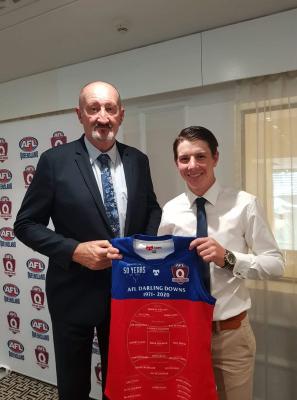 By Julian Lehnert
A young Nanango teacher has received a spot on a Darling Downs Aussie Rules all-star team put together to celebrate 50 years of AFL in the region.
Kingaroy Saints player Nathan Trace, 26, was given the honours at a celebratory dinner in late August after making the shortlist in July, where he now joins 21 other past and present players of the sport.
"Nathan started playing Aussie Rules as a 6-year-old for Kingaroy/Nanango Jets; he played every year until lack of numbers saw the Kingaroy juniors fold," his mother Debbie explained.
"He represented Darling Downs as a junior in their under-14 Demons team twice, captaining this team to victory at the state championships in 2009."
Throughout his education, the all-star kept up his love for the sport, playing for Wide Bay and Sunshine Coast teams in school and university respectively.
Former Kingaroy Bulldogs player Christian Hunt, who worked with Nathan for AFL Sunshine Coast during his university years, joins him on the prestigious top 50 shortlist, however Nathan is the only South Burnett player to be placed on the 22-strong all-star team.
Nathan has since returned to the South Burnett, now working as a PE and Agriculture teacher in Nanango and yet again representing the region in his favourite sport.
"[Nathan] has won the Holman Medal, the Darling Downs competition best-and-fairest in 2018 and 2020 and became the state's Rural Ambassador runner-up in 2019," Debbie said.
"Through school sport he also coaches the Wide Bay under-15s Aussie rules team."
When asked as to how he made the team, Nathan explained that his passion for the sport is what has always driven him to excel.
"Having played a couple of good years for the Saints probably helped," he said.
"It's all about playing for a few years, being around, helping the team out."
His main request for lovers of the sport in the region is to keep up to date with their local team -his own side, the South Burnett Saints, who will reportedly announce their training dates soon.
"It's always been about local footy and local clubs for me," Nathan said.
"I always want to make sure to get as many people down to the local club as possible."