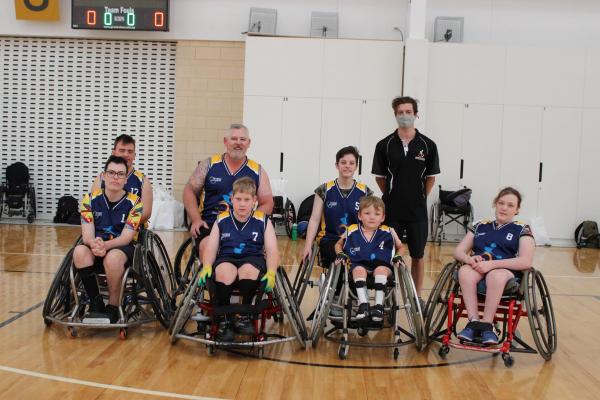 By Julian Lehnert
A group of South Burnett wheelchair basketball players enjoyed their first taste of a big tournament last week.
The three Burnett players joined the Suncoast Spinners team, which represented the Sunshine Coast and greater region, at the Gold Coast Rollerblaze Wheelchair Basketball tournament on Saturday 25 September.
The B-Grade side of the Suncoast Spinners wheelchair basketball program competed at the tournament, hosted by Gold Coast Rollerblaze, going up against six other teams from South East Queensland.
For South Burnett players Lincoln McDougall, Taylor Peterson, and Bradley Heimerl, Saturday's event was the first time they competed in a tournament setting, with the three young guns giving it their all to help their side to victory.
"It was a great opportunity for players new to competition to learn the ropes, and everyone had a blast," team coach James Hill said after the event.
"The Suncoast Spinners displayed an abundance of enthusiasm and sportsmanship."
South Burnett local Bradley Heimerl received special mention, being named in the All-Star 5 top players list for the tournament.
"They played for the Suncoast Spinners, who manage the local wheelchair basketball program at Murgon PCYC," Michael Oxley, coach for the South Burnett program of the Suncoast Spinners, said.
"Lincoln showed some great speed, while Taylor made some impressive cuts into the keyway and Brad played with great spirit and scored some nice baskets.
"Brad was named in the All Star 5, which is the best 5 players in the tournament. All players had a smile on their faces and loved their first tournament."
The South Burnett program's coach called on any interested locals to come along to the group's future meetings.
"[The players] would love to have some more players join them at our regular Come and Try Days on Saturdays 9 and 23 October, 6 and 20 November and 4 December at the Murgon PCYC from 10am to noon," Oxley said.
The Suncoast Spinners B-Grade team:
James Hill – Coach
Trent Campbell – Manager
Drew Rhoden No.4
Felicity Clarke No.5
Lincoln McDougall No.7 (South Burnett)
Taylor Peterson No.8 (South Burnett)
Logan Clarke No.11
Bradley Heimerl No.17 (South Burnett)
Steve Clarke No.22
Rohan McDonald No.23