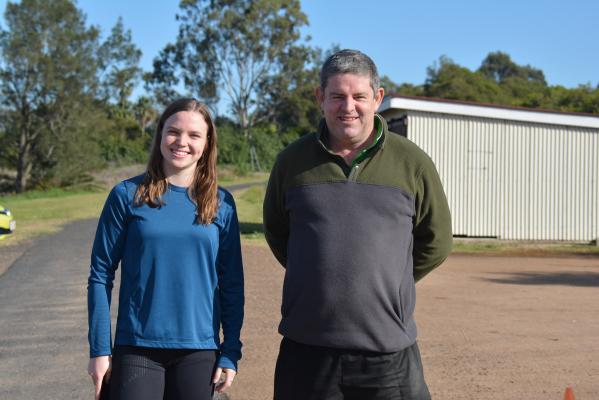 by Jessica McGrath
The Kingaroy to Kilkivan Rail Trail was transformed into a relay track last weekend as teams competed in the inaugural South Burnett Rail Trail Relay.
Eight teams, with five to eight runners in each, visited the South Burnett for the event on Sunday, 3 October, representing clubs from Lockyer, Ashgrove, Thompson Estate and Toowong.
Toowoong managed to win both the men's and women's categories.
Organising club, Ashgrove Rangers Athletics Club based in Brisbane, member John Purcell said the South Burnett was the perfect location for the 59km relay from Kingaroy to Wondai and back.
"This is fantastic -this is like a purpose-built relay course it's been what we've been looking for, for years," Purcell said.
"The fact that it's got facilities along the way and set changes over is fantastic."
They also had two 1.2km races for children before and after the adult's race.
In the children's race it was dual golds to Eliza Preston and Harry Cootes with silvers to Ashleigh Preston and bronzes to J D Cootes.
The older participants then set off from the Kingaroy end of the rail trail and headed up towards Wondai, switching over relay team mates at road crossings and only adjusting the course on the second leg slightly to avoid a magpie.
"We've had a lot of really good road relays closer to the road…but then insurance and traffic issues made it too difficult," Purcell said.
"The other rail trail [Brisbane Valley] often has cattle roaming around and can be difficult to access.
"This is fairly close to the main road and easier to organise and a good surface."
Relay runner Cara Jardine participated in the Ashgrove Rangers' women's team on the day.
Jardine said she preferred relays over regular track as it turns running into a team sport.
"I like relays because it becomes more of a team event," she said.
"A lot of running can become really individual and so it brings together a bunch of people and you get to enjoy it," she said.
Jardine has done running with the Ashgrove Rangers, competed in the Queensland Nationals and also in the under-20s Australian team.
She said the trick to a successful relay was having fun and not taking things too seriously.
"In relays its a different mind frame compared to normal races," Jardine said.
"It's about getting out there, giving it your best, not thinking too much and having the team support.
"Most people run their fastest in relays because you've got other people you're running for, not just yourself."
The seasoned relay runner said there was an advantage to doing the relay along a rail trail or course rather than a stadium.
"Its a lot better scenery running along and it doesn't feel as long because you're not just running in circles, and you get to take in the surroundings more," Jardine said.
The group of 50 people had dinner together at The Carolee on the Saturday night and stayed in the region overnight. Purcell said they were very appreciative of the council support and the Bunya Scouts who ran a barbecue lunch for the athletes.
"We didn't want it to be too big the first year, we'd like for it to get a lot bigger as we'd like to get more people up here to look at the region," Purcell said.
Purcell is keen to see the South Burnett Rail Trail Relay event grow over the next few years.