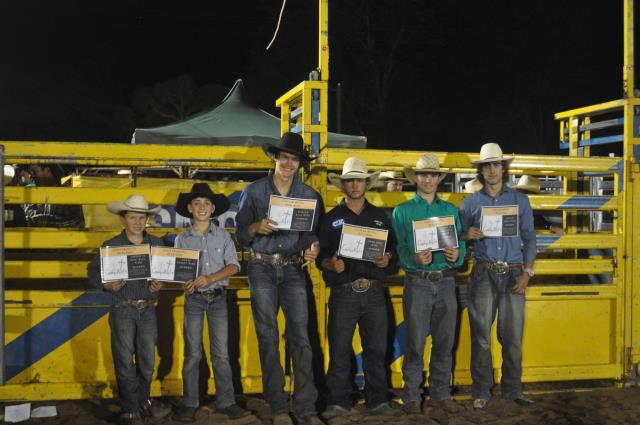 by Julian Lehnert
Scores of the region's toughest cowboys made the trip to Cooyar earlier this month in order to participate in the grand return of the Cooyar Hotel Bull Ride on 4 December.
A total of 64 competitors entered into the event, which featured 6 rides for all ages and skill-levels, with close to $7,400 in prize money on offer.
Rider Ty Thomson took home $1,869 for his 86 point-strong battle with bull Ohh Yah in the Open Bull Ride main event.
Cooyar publican and event organiser Kate Francis thanked all competitors and visitors for their support once the dust had settled.
"The return of The Cooyar Hotel Bull Ride was a great success," she said.
"We had the guys from CMC Rodeo bring some of their best bucking bulls, and Doak Rodeo Company bringing their mini bulls.
"The riders and bulls certainly didn't disappoint, putting on a fantastic action packed evening!"
Results:
BULL RIDE
1 Ty Thomson (on Ohh Yah): $1,869, 86 points
2 Jack McArthur: $1,402, 83 points
3 Ethan McConnell: $934, 82 points
4 Cody Kelly: $467, 81 points
NOVICE BULL RIDE
1 Lleyton Browne: $920, 71 points
2 Daniel Hafey: $612, 63 points
U18 JUNIOR BULL RIDE
1 Ben Bode: $358, 68 points
2 Joe Macqueen: $238, 64 points
U15 MINI BULL RIDE
1 Jay Buffier: $245, 60 points
7-U12 MINI BULL RIDE
1 Will Dowling: $96, 67 points
2 Clay Egan: $72, 65 points
3 Noah Martignago: $36, 63 points
3 Will Fogarty: $36, 63 points
7-U12 PODDY RIDE
1 Will Dowling: $56, 64 points
2 Nate Ryan: $56, 64 points