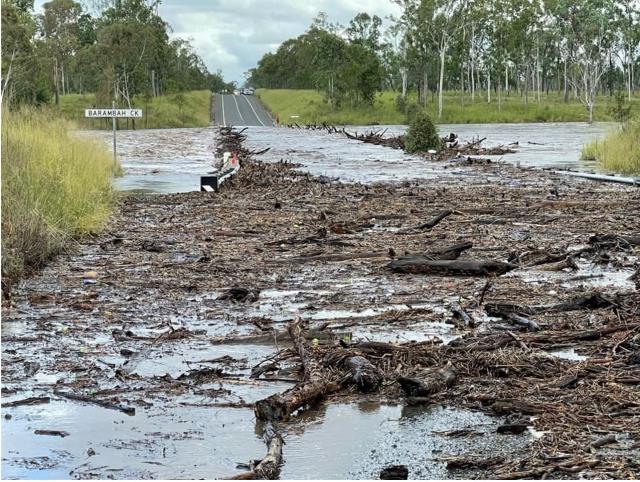 by Julian Lehnert
With the fallout of ex-tropical cyclone Seth still affecting parts of the Wide Bay-Burnett region, many motorists and concerned residents are left scratching their heads at the condition of their local road network.
As many roads and bridges in the region were flooded, obstructed, damaged or otherwise rendered unavailable over the weekend, Burnett Today has compiled an up-to-date list of roads that are, as of writing, still closed off.
Readers wishing to stay updated on the condition of their local roads are urged to visit their Council's respective Emergency Dashboard website for further information.
The Queensland Government reminds residents of flood-affected areas that 'If it's flooded, forget it.'
For flood emergency assistance contact the SES on 132 500. For life threatening emergencies, call Triple Zero (000) immediately.
Current emergency information is available at www.qld.gov.au/alerts.
NORTH BURNETT
Burnett Highway at Ban Ban Springs and Booubyjan; two kilometres North of Murgon Gayndah Road, from January 8 2022, 1:19 pm – ongoing
Advice: Avoid e area; last updated: January 11 2022, 6:50 am
Weeron Road at Bon Accord, from January 11 2022, 5:00 pm – ongoing
Advice: Use alternative route; last updated: January 11 2022, 5:02 pm
Dykehead Road at Derri Derra, from November 12 2021, 7:15 pm – ongoing
Advice: Use alternative route; last updated: January 9 2022, 9:06 am
Reinkes Road at Boynewood, from November 12 2021, 7:15 pm – ongoing
Advice: Use alternative route; last updated: January 9 2022, 9:06 am
Bradleys Road at Old Cooranga, from November 12 2021, 7:15 pm – ongoing
Advice: Use alternative route; last updated: January 9 2022, 9:06 am
Yenda Benyenda Road (crossing Burnett River), from January 10 2022, 15:17 – ongoing
Advice: Use alternative route; last updated: January 10 2022, 15:18:14
Washpool Road at Campbell Creek, from January 8 2022, 10:40 am – ongoing
Advice: Use alternative route; last updated: January 10 2022, 9:06 am
Ban Ban Road at Ban Ban Springs, from January 8 2022, 10:41 am – ongoing
Advice: Use alternative route; last updated: January 10 2022, 9:06 am
Sandarrah Road at Stockhaven, from January 10 2022, 2:16 pm – ongoing
Advice: Use alternative route; last updated: January 11 2022, 4:13 pm
Cockings Road at Dundarrah, from January 10 2022, 14:32 – ongoing
Advice: Use alternative route; last updated: January 10 2022, 14:32:54
Emu Creek Road at Degilbo, from January 8 2022, 11:17 am – ongoing
Advice: Use alternative route; last updated: January 11 2022, 8:12 am
Seccombes Road at Degilbo, from January 8 2022, 11:15 am – ongoing
Advice: Use alternative route; last updated: January 11 2022, 8:12 am
Grills Road and River Road at Coringa, from January 8 2022, 2:15 pm – ongoing
Advice: Use alternative route; last updated: January 11 2022, 8:12 am
Gospel Hall Road and Mount Woowoonga Road at Dallarnil and Woowoonga, from January 9 2022, 9:32 am – ongoing
Advice: Use alternative route; last updated: January 11 2022, 2:56 pm
Eureka Road at Golden Fleece, from January 11 2022, 2:45 pm – ongoing
Advice: Use alternative route; last updated: January 11 2022, 2:54 pm
Maryborough Biggenden Road at Biggenden and Boompa, from January 9 2022, 9:40 am – ongoing
Advice: Use alternative route; last updated: January 11 2022, 6:54 am
SOUTH BURNETT
Hivesville Road at Marshlands, at Marshlands Bridge, from 11/01/2022 10:14 – ongoing
Advice: Do not drive in flood waters; last updated: 11/01/2022 10:39
Steinhardts Road at Redgate, from 11/01/2022 00:00 – ongoing
Advice: Do not drive in flood waters; last updated: 11/01/2022 10:44
Campbells Road at Silverleaf, at Barambah Creek, from 11/01/2022 08:59 – ongoing
Advice: Do not drive in flood waters; last updated: 11/01/2022 10:36
Silverleaf Road at Wooroonden, at Barambah Creek, from 11/01/2022 09:03 – ongoing
Advice: Do not drive in flood waters; last updated: 11/01/2022 10:38
Webbers Bridge Road at Stonelands, at Barambah Creek, from 11/01/2022 09:20 – ongoing
Advice: Do not drive in flood waters; last updated: 11/01/2022 10:41
Clovely Lane at Redgate, from 11/01/2022 09:27 – ongoing
Advice: Do not drive in flood waters; last updated: 11/01/2022 10:37
Tipperary Road at Moffatdale, from 11/01/2022 16:04 – ongoing
Advice: Do not drive in flood waters; last updated: 11/01/2022 10:46
GYMPIE
Burnett Highway at Goomeri; Chippendale Creek north of Goomeri has cut the Highway, from January 7th 2022, 7:38 pm – ongoing
Advice:Use alternative route; Last Updated: January 11th 2022, 6:49 am (a day ago)
Burnett Highway at Booubyjan and Goomeri, from January 8th 2022, 8:30 am – ongoing
Advice:Use alternative route; Last Updated: January 11th 2022, 6:54 am (a day ago)
Kilkivan Tansey Road at Kilkivan, between Coppermine Creek and Wide Bay Creek, from January 7th 2022, 11:29 pm – ongoing
Advice: Do not drive in flood waters; Last Updated: January 12th 2022, 9:59 am (2 hours ago)
Old Murgon Gayndah Road at Booubyjan
Advice: Do not drive in flood waters; Last Update: 11/01/2022 16:44
Murgon Gayndah Road (Boonara Creek Bridge) at Booubyjan, from January 8th 2022, 12:21 pm – ongoing
Advice: Use alternative route; Last Updated: January 11th 2022, 6:49 am (a day ago)
Rossmore Road at Kilkivan
Advice: Do not drive in flood waters; Last Update: 11/01/2022 10:03
Spencer Road at Kilkivan
Advice: Do not drive in flood waters; Last Update: 11/01/2022 10:04