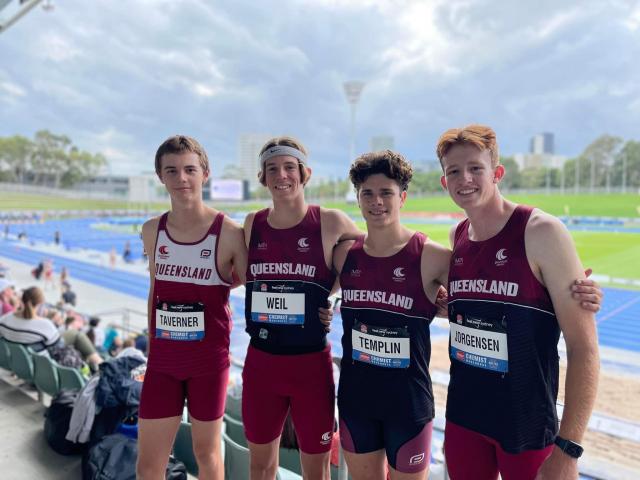 by Jessica McGrath
Nanango's Harrison Weil is looking forward to having his moment in green and gold.
The up and coming athlete is the 2022 under-18s men's Long Jump national champion.
His win at the 2022 Australian Track and Field Championships on 2 April means he is now waiting on confirmation that he had made the team to represent Australia in the Oceania Track and Field Championships in Mackay in June this year.
"This will allow me to experience international competition against countries in the Oceania while wearing the green and gold," he said.
Although winning gold was an obvious highlight at the national championships, the opportunity was much more for Harrison.
"I am more proud of representing my state, my family and especially my community as it shows that no matter where you come from, if you work hard you can achieve your goals," he said.
The Nanango State High School Year 12 student also finished fourth in his Triple Jump event.
Harrison made the final for the 110m Hurdles, while his younger brother Cooper also had a crack at the national Hurdle events in the under-15s races.
Standing on the podium at the Sydney Olympic Athletics Centre was a surreal experience for Harrison Weil as he was presented with a gold medal.
The 2022 under-18s men's Long Jump national champion from Nanango relished the unfamiliar moment on a national podium.
"It is hard to describe the feeling as it is nothing like anything that I had felt before," he said.
"This result was the culmination of a lot of hard work and many disappointments over a lot of years."
The 2022 Australian Track and Field Championships is the pinnacle of the athletics season and was held from 26 March to 3 April in Sydney. It draws in the best athletes from across Australia, as well as some international athletes from the under-14s to the open class, the event allows older athletes to qualify for world championships, Olympics and the Commonwealth Games.
Harrison also made the final in his Triple Jump event and finished fourth, while he made the final and finished eighth in the 110m Hurdles.
The 17-year-old athlete now awaits confirmation that he has made the Australian Long Jump team for the upcoming Oceania Track and Field Championships in June.
"It is a great feeling to know that I will be part of an Australian team and get to compete on an international stage," Harrison said.
"It is an awesome opportunity to push myself further and see if I can jump longer than I ever have before."
After three preliminary rounds of Long Jump, Harrison was sitting in second place heading into the final. He had jumped 6.74m while the leader had jumped 6.76m.
"My first 2 jumps in the final were both 6.77m. Before my last jump the athlete in 8th position jumped 6.80m, the athlete in 3rd position jumped 6.85m and the athlete in 5th position jumped to the lead with a leap of 7.01m," Harrison said.
The Nanango athlete needed a jump bigger than 7.01m to win.
"Leading into the competition I was one of only four jumpers that had jumped 7m in qualifying so I knew I could do it," Harrison said.
"As I stood at the top of the runway my coach called to me that I had to jump over 7m and I gave him a thumbs up and a 'yeah ok', I did my job and jumped 7.03m to win.
"This was not a PB but I was happy to jump that well in a pressure situation."
When it came to the under-18s 110m Hurdles Harrison was happy with placing third in the fastest heat, earning him a spot in the final.
"Unfortunately, in the final I hit the first, 4th and 10th hurdles and I found it very hard to stride out in rhythm over each hurdle," he said.
"Hurdles is one of those races where small things can impact your race for the good or the bad."
He finished 8th overall.
After being a little disappointed with his hurdle result, Harrison turned his focus to the under-18s Triple Jump.
"My first 2 jumps were well below my best so I knew I had to put in a good performance on my last jump in the preliminaries if I wanted to get into the final," he said.
"Fortunately, my last jump was a PB of 13.85m which put me in 4th place going into the final."
In the final Harrison's first two jumps were not what he had wanted, so he put in "one last good jump".
"On my last jump I jumped a PB of 14.17m which was the first time I had broken 14m," he said.
"This jump temporarily had me in 3rd position before the next jumper won the competition on his last jump pushing me back to 4th."
Harrison was really excited with his last jump and a little disappointed he narrowly missed out on being on the podium.
"Triple Jump was not my focus for the competition but I was really pleased with jumping a PB and giving myself a chance," he said.
After some disappointing results in last year's Australian Track and Field Championships, Harrison felt he had redeemed himself in 2022.
"To go out and perform the way I did was exactly what I felt I could do and prove that I belong at this level," he said.
COOPER WEIL -100m and 200m Hurdles
His brother Cooper Weil competed in both the 100m and 200m Hurdles at the 2022 Australian Track and Field Championships.
The Year 9 student at Nanango State High School made the final in the under-15s 100m Hurdles and placed fourth overall, while in the 200m event he placed 9th overall -missing a spot in the final by just 0.04 seconds.
Cooper was feeling good about the 100m Hurdles as it was the event he had been consistently getting better at over the season.
"I knew my times stacked up against the other athletes and I thought if I could run a few PB's I might get a medal," he said.
"I won the heat, ran a PB 14.56 and beat competitors that had beaten me in previous competitions and I was sitting 4th after the heats, which made me confident in the final.
"In the final I didn't get the best start but when I was up and running I was making ground on the 3rd place getter but unfortunately, I couldn't catch him."
The 14-year-old athlete ran his personal best of 14.56 in both the 100m Hurdles heat and finals.
"I finished 4th with the same time as my heat which my coach and I were happy with," he said.
In the 200m Hurdles Cooper secured a personal best of 29.26 and finished ninth overall.
"I also competed in the 200m Hurdles which I find much more difficult as it is hard to get the spacing right with my steps in between hurdles which impacts my fluency and rhythm over the hurdles," he said.
Cooper relished the experience to travel interstate and compete against Australia's best athletes.
"My highlight was competing, making new friends and hanging out with my Queensland team members," he said.
"I must also say it was great to see my brother do so well across the week."