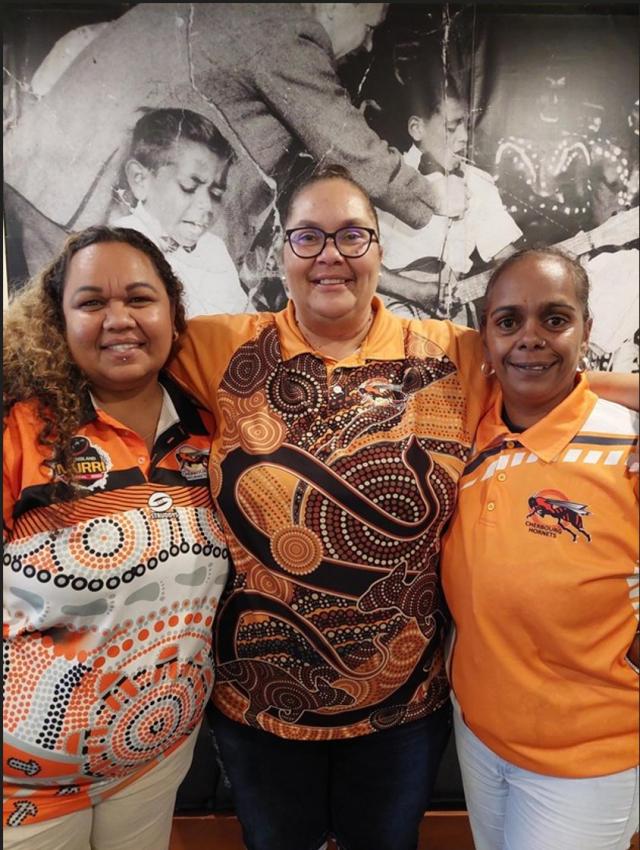 By Euan Morrisson
The Cherbourg Hornets Rugby League Club have its first full-female committee this season.
Lynette Brown, Kimberly Barrett and Luella Blair are making history at their club. The trio are chair, secretary and treasurer.
Footy has been a massive part of Cherbourg for years now and throughout its history, much of the committee was made up of men.
Kimberly Barrett was the treasurer in 2021 but is back again in 2022 this time as the secretary.
Barnett said the committee would run well because the club is just like a large family.
"Women are the backbone of the household. So more or less you think of it as that household but as a community, and a club," she said.
It's not just in the footy club that's bringing the girls to the front, women are taking leading roles all throughout the community.
"We got our first female mayor, females in health… females Community Health, Cherbourg hospital, the coordinator," Barnett said.
This committee will not be varying the course of the club too much, but Barnett did say they would probably have a bit of a different focus from some of the committees in the past.
The word she used to describe the goal of their committee was "nurture".
"Nurture, give everybody a go, and you know women get things done," Barnett said.
The committees of the past did great things for Cherbourg. They gave the community a team to unite behind and cheer for.
Barnett said that one of the people she looks up to is Warren Collins.
Warren Collins was the club president of the Hornett's Rugby League Club for 40 years.
"I was employed alongside him with Cherbourg Aboriginal Shire Council," Barnett explained.
Barnett also worked alongside him at the club as well before he stood down from his role in 2021.
"It was awesome to see himself work around, the canteen, the broadcasting, the commentary, doing housekeeping against his will, engaging with the supporters…"
Years ago, before she was on the committee, Barnett was one of those who got behind the team and supported them from the sideline.
"[I'm] born and bred here, I've been a big supporter for Cherbourg Hornets growing up [and just looking to] keep it going," she said.
All of the committee have been lifelong supporters of the team.
Last year they had a cracker of a season and this time they're getting keen for another one.
"Bring on the footy."