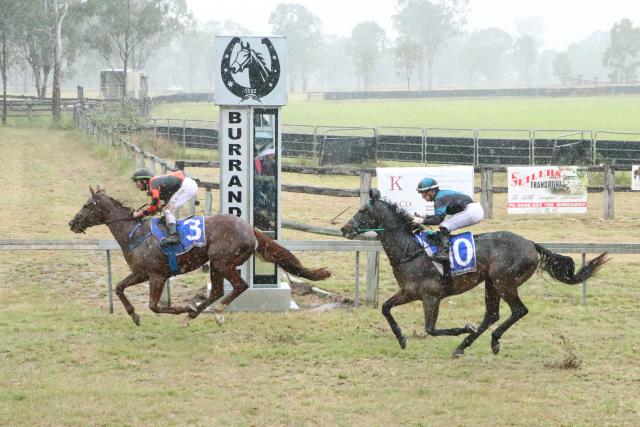 by Julian Lehnert
Burrandowan's annual Picnic Races celebrated a massive milestone this year, with their 2022 outing being the event's 100th anniversary.
Crowds in the hundreds – unseen at any other Burnett race day – flocked to the small country locality west of Kingaroy on Saturday 7 May for a day of horse races, fashion competitions, dancing and barbecueing.
The historic 100th anniversary of the Burrandowan Picnic Races was marred by a large volume of rain, which quickly inundated patrons and the racecourse grounds, turning footpaths into muddy trenches and rendering the race track unusable after the first race – a tight neck-on-neck which was ultimately won by jockey Morgan Butler atop Kaliya following a last-minute dash.
The race stewards made the heart-wrenching decision to cancel the day's four other races, citing potential hazards to participating jockeys and horses, but this did not stop the revelling crowds from staying at the course until late.
Burrandowan's annual race day began on 13 May, 1922; after a period of sparse racing between 1936 and 1953 due to the advent and aftermath of World War 2, competitions again began in earnest, with the popular event being held every year since.
In 1956, the club added a morning clay pigeon shoot to the event line-up – a practice which is still a tradition at the races to this day.
The storied event was visited by then-Governor Sir James Ramsay in 1978 and 1980.
A spokesperson for the Burrandowan Picnic Race Club took to the group's Facebook page after the event, lamenting the unfortunate weather situation but thanking their passionate supporters for attending regardless.
"Thank you to all our wonderful patrons who braved the weather and celebrated 100 years of Burrandowan Racing with us!" they wrote.
"Although it was disappointing to only get one race in, the safety of the horses and jockeys is paramount and we know everyone respected the tough decision Racing Queensland had to make.
"A heartfelt thank you to our Club members who put a huge amount of voluntary hours into the Race Day every year, with this year being no exception," they added.
"The next best thing to celebrating 100 years is coming back to celebrate 101 next year … who's with us?!"
Race 1:
1st: Kaliya, Jockey: Morgan Butler
2nd: Rapid Eagle, Jockey: Hannah Richardson
3rd: True Tally, Jockey: Hannah Phillips
See Burnett Today's mega gallery of Burrandowan Race photos here: burnetttoday.com.au/news/2022/05/10/60-photos-nothing-can-stop-the-burrandowan-races/