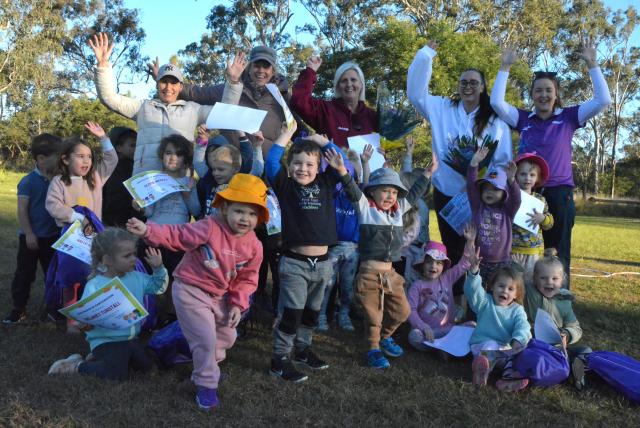 by Jessica McGrath
By 2023 netball may be widely accessible for three and four-year-olds across Queensland.
Nanango and District Netball Association wrapped up Netball Queensland's pilot program of 'Little Nettys' last Friday.
Netball Queensland's Head of Participation Cherie Brockwell and her crew came out to Nanango Netball for the Little Netty's graduation ceremony on 10 June.
"The feedback has been overwhelming," she said.
"Feedback from [Nanango President] Katie and the coaches were on point -there was no negative feedback."
Netball Queensland offered the pilot program to the Nanango Netball Association to offer opportunities to clubs outside of south east Queensland.
"It's a brand new program and I wanted to bring it outside of southeast Queensland," Brockwell said.
"Plus Nanango has the local community environment we wanted to embrace."
Nanango Netball Association President Katie Mangan said they had a really great time hosting the pilot program.
"It's been great building their gross motor skills and confidence," she said.
Mangan mentioned that Netball Queensland had provided brilliant support and the pilot program had been a great way for the Nanango club to make their come-back after Covid-19 stopped games.
Over six weeks 18 children aged three and four-years of age came along for the free pilot program dubbed 'Little Nettys'.
These young Nanango netballers were the first in Queensland to try out the new program.
"There's not a lot in this age-bracket around for kids," Brockwell said.
They focussed on patience and resilience and learning fine motor skills such as hopping, jumping, catching and throwing.
Netball Queensland representatives visited three times over the six-week pilot program period by supporting the club's coaches to see if the program was simple enough for a club like Nanango Netball Association to run.
They are looking to incorporate some of the things Nanango Netball added into the program.
Nanango Netball added music in their first session to have a dance party with the participants to make it more fun.
Overall Netball Queensland counts the pilot program as a success.
"All 18 kids kept showing up, which means it was enough content to keep them entertained," Brockwell said.
"That was the test -how much will keep kids for six weeks with no financial outlay?"
Netball Queensland thanks the Nanango Netball Association for all of their hard work to bring the Little Netty's program to life.
"They've done an excellent job," Brockwell said.
"I think it's been an absolute success and on behalf of Netball Queensland I want to thank Nanango Netball for bringing the program to life."
Netball Queensland also ran training sessions with the older netballers as a way to say thank you to the club for being willing to trial the pilot program.
The next stage will be reviewing the feedback from Nanango's sessions before trialling the Little Nettys program as a paid program later this year in a different town.
By 2023 the Little Nettys could become incorporated into Netball Queensland's introduction pathways for netball in order to open up the courts for three and four-year-olds.