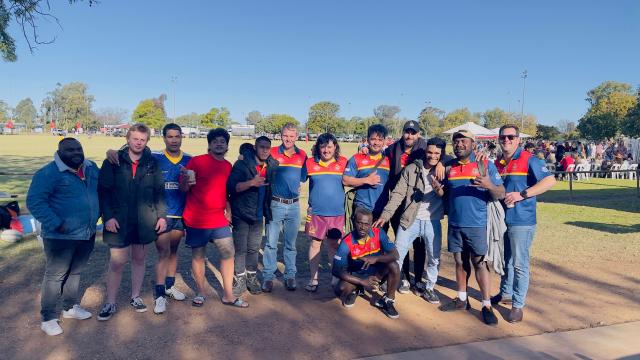 South Burnett Thrashers are gaining strength and smarts as they get closer to the end of the season.
The rugby union team travelled out to St George on Saturday, 16 July to go up against Roma as part of the St George Frillneck Lizards 'Ladies Day'.
This was a big game for the team as Roma sat one position above the Thrashers on the ladder. For the Thrashers to get an easier run into the fields, they need to win all of their remaining games.
The Roma team was physically larger than the South Burnett team and they were still pumped up from a good run of recent wins.
The Thrashers slowly let two quick tries in as the game started before changing tactics and play more of a positional game to turn the much bigger team around.
This allowed the smaller, fitter forwards from the Thrashers to run wider off the ruck and allowed the South Burnett to gain the upper hand.
In defence there was a lot of heart shown to keep the bigger Roma team out for the rest of the first half and most of the second half.
The Thrashers' intelligence around the ruck was fantastic, knowing when to leave it alone and knowing when to put pressure on them in the rucks and come away with a lot of pilfered ball.
The team dug in after a long five-hour bus ride to get their hard-fought win with a final score of 31-17.
Thrashers' Jamie Shirlaw says the team really showed their skills in this match.
"Really smart rugby is what ultimately won it for us in the end and a tad of luck helped along the way as well," he said.
Nikolao Petueli scored two tries with Sata Tale and Marcus Jensen scoring a try each.
Marcus Jensen broke a huge milestone for the season break 100 points scored this season. He has scored a total of 103 points this season. This includes 12 tries, 20 conversions and 1 penalty kick.
Niko was named best on field, getting 3 points with Marcus Jensen getting 2 and Ryan McDonald getting 1.